After introducing US favourites like Twinkies, Cheetos and Lucky Charms, the acquisitive Innovative Bites is diversifying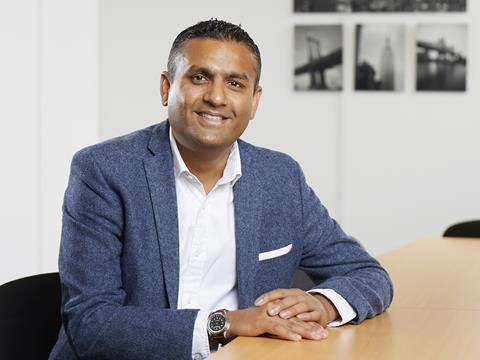 There are two golden rules to making money out of food, says Vishal Madhu. "Keep the customer happy. And do whatever it takes to get that product on the shelf."

You can trust he knows what he's talking about. He began in 2008 with a bunch of bananas. Now he's standing in a cavernous new 105,000 sq ft industrial unit near Luton, 10 times the size of his first 1,100 sq ft startup in Slough.

There are two reasons Madhu likes this new sense of space. First, because growing up in 1980s India, things were a little cramped. "My house had two rooms. We had me, my younger brother and sister, my mum and dad and my grandmother and grandfather in the same place. It was one little kitchen and everyone else slept on mattresses on the floor."

The second reason is that "if we don't have space we can't grow". And Madhu craves growth.

From his original unit in Slough he moved to a nearby 2,500 unit, which he kept adding to until it was 12,500 sq ft. Then he moved to a 35,000 sq ft warehouse, before heading to Luton. As the space has grown, so have sales, rocketing from £110k in 2010 to £47m in 2016. Pre-tax profits have steadily increased along the way to hit £5.5m. So how did it happen?
"I'm not comfortable because the US trend is growing so fast. And you get trends that go mental, then they die. And if it dies, I'm finished"
His "grounding" came from his first job in fmcg, as an account manager selling ethnic food into Tesco. "I came from the finance world where I wore a tie and ordered people around. They put me in the warehouse, in a hairnet and a white coat. I was thinking 'What have I done? I hated it. But slowly, I started learning."

As he did so he began to consider working for himself. "I was making really good supply chain savings and I'd get a bonus and a pat on the back. I thought, 'I can't have this. They use my knowledge, they get the money, I get nothing'."

He registered Innovative Bites in 2008 but kept the day job and operated a successful sideline as a consultant. His first invoice was a container of bananas. "I said to someone I had worked with in the past, 'I can get you cheaper bananas. I'll save you 50p a box. Try me'."

Not that he had any money. "I said 'I need you to pay me up front, then wait two weeks, but trust me'. And he paid me £10,000 based on what I had done before, saying 'I was in your position once…'"

His cut from the bananas was £400 and "that kicked everything off". He started buying waffles ("the proper Liège ones from Brussels") to sell to kiosks.

Then a friend in the US, who was VP of a "decent-sized snacking firm" said 'Vishal, I want my pitta chips sold in the UK'. I said 'I don't have the money'. He goes, 'I want you to do it. I'll send you five pallets. If you sell, pay me back, if you don't, forget it.' So there was no expectation. And that kickstarted the American products."

Harvey Nichols made the first order for £1,300. "I was jumping, thinking this is the start. But I also knew I couldn't do consulting any more. I was used to earning a lot of money, my second child was less than a year old, and my wife Neha was like 'Aargh, are you sure?' Then she said 'OK, what is the worst that can happen? We spend our savings, it doesn't work out, we go back to work. So yes. Do it.' And I've not looked back."

Neha manages the operational side of Innovative Bites, Madhu handles strategy. "We are not in each other's faces all the time," he says. "I'm too loud for him anyway," she laughs.

"I met a beautiful girl, fell in love, nine months later we were married," says Madhu. "I was 24, she was 23. It was tough. Our weekly treat was £2.50 each and we'd get a kebab and a Coke. That's where we come from. I was doing everything myself - up at 3am, packing, labelling, researching the US."

His first big customer was Amazon, which also helped him make contacts in the US. Ocado came next.

"It was also online so it was a natural fit and the volumes weren't crazy so we could sustain ourselves".

Then Poundland wanted Nerds and "the business transformed, now we had volume". Tesco came knocking in 2012 and Madhu pinched 85% of the existing US-branded Tesco business from a rival. "Difficult times: we launched 200 stores in one hit, we were working day and night, hiring new people. It was crazy."

Now it has 50,000 customers, all B2B, and no single customer represents more than 5% of turnover.

But plenty of other challenges exist when you're importing from the US. "Our volumes are not big. The US conglomerates are so engrossed in their own volumes, it's mental what they can do. We want 20 containers a year, so they don't care if they don't sell it to us. We really had to persevere. We go straight to the source, we pick up from their factories, we do everything."

Another task is re-labelling products so they are compliant with EU law (a team of 72 re-label around a million products every week). And sometimes, re-labelling isn't enough, like a condemned consignment of Cheetos Madhu can no longer sell because an ingredient banned by the EU was introduced to the Cheetos in the US. "I can't tell them to stop 50 million tonnes of Cheetos when I buy less than a tonne," he shrugs.

There are other complications, like "16-week lead times". And then there is Brexit. "We are very cute as a business, we hedge, but when it runs out it's difficult. So we have been identifying savings in the supply chain, committing to volumes to make it cheaper. And we have had to go with price increases."

Brexit has had its upsides. "The guys on the Continent are having issues, the euro is not bouncing back. So it's currently cheaper to buy from us than the US. Pre-Brexit we exported to 12 countries, now we're in 17. Pre-Brexit exports were £1m, now they are £3m. It has impacted slightly on the bottom line but we won't see a massive difference. It was a big hoo-hah, everyone panicked, but we haven't really seen any changes."
Double up
In the meantime, Innovative Bites has been making plenty of changes of its own. In 2016 it swooped in for old school British confectionery company Bonds and rival supplier Hancocks in 2017. Why?

"If I don't double growth, something is wrong. So I needed to do something different. The US market in the UK is worth around £40m. We have 60%. How much more can we go? 70%? That's a tough call. Even if we do, I won't grow double. And I'm not comfortable because the US trend is growing so fast. You get trends that go mental, then they die. And if it dies, I'm finished."

Bonds was a "complimentary business, not in terms of product but in other things, so there were synergies. It had a good customer base, it was a well-known brand. It had a field sales force of 35, we had four. They bought £400k of US products from someone else, so that's £400k already. The acquisition gave us a production house so we get access to private label. And it gave me the chance to strategically spread my wings."

He wanted to fly to "£200m by 2020. Everyone thought I was nuts. But with acquisitions, small or big, the effort you put in is the same. So do a bigger beast."

Hancocks was "in my head two months after buying Bonds. I needed to do something big. We used to sell Hancocks US stuff. And Bonds used to buy from Hancocks, so it was a three-way street. Hancocks were going to buy Bonds and I nipped in and took it away. And it came to a point where I thought a deal can be done for Hancocks. And everyone else is very small, so if we hadn't got them, they would have got us."

What would you have done if they tried? "They did. I had a meeting with Hancocks CEO Wayne Beedle. He was saying 'How long will the US trend last? You've got Bonds now, it's interesting, what opportunities exist?' And I said 'Are you saying you'd like to buy my business, Wayne?' And he goes, 'We would love to see what opportunities exist'. And I said, 'Hmm. Do you want to sell Hancocks?' And it all went from there."

So what's next? "Nothing for six to 18 months because we have big synergies to bring together. We had three CEOs, it was crazy. And they fight! 'I'm better than you' and so on. Business is simple, it's human beings that make it complicated. Business is just you and me shaking hands. I buy, you sell, or the other way round. It's the processes in the middle that make it difficult. So now we want to consolidate, bring it back to the bottom line, and make a tonne of money. Then we'll make our next play."

What will that be? "My strategy is to keep going for another five to seven years, then I'm out. I'll sell the business. I'm very creative. I can't sit still. I will sell, make my money and do something else. I have other business plans at very early stages but I know how to kick them off and they could be big in a very short space of time. I'll be here, I'll be around the block, but I think out of the box with everything, which is why I am here now. I'm not a CEO, I'm an entrepreneur. So let me be entrepreneurial. And let somebody else who knows how to run the bloody business run it."