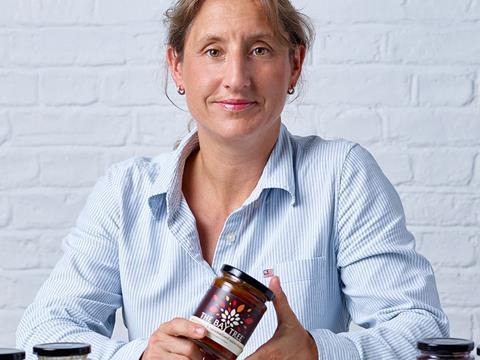 What was your first job? I left school at 16 and worked in a vegetarian restaurant.
What was the first music single you bought? Michael Jackson, Thriller. I loved the dance and watched the video repeatedly.
How do you describe your job to your mates? I normally say I make chutney! But there's a lot more to it than that.
What is the most rewarding part of your job? I love when we launch new products – I'm proud of every product we make.
What is the least rewarding part? Dealing with legislation that in so many ways inhibits innovation in a small business.
What is your motto in life? Do your best.
If you were allowed one dream perk, what would it be? To have a complete summer holiday off to spend with my family. I find it hard juggling work and family during the holidays.
Do you have any phobias? I don't like underground spaces with no windows.
If you could change one thing in grocery, what would it be? Our obsession with fast food and the lack of time people give to make food for themselves. I believe this should start in schools and needs urgent attention to help kids to make better choices.
What luxury would you have on a desert island? Real ginger beer, delicious cheeses, crackers and charcuterie. 
What animal most reflects your personality? My Aylesbury ducks, as they are adventurous, loyal and support each other.
What's your favourite film and why? The Holiday – it makes me feel warm and cosy.
What has been the most embarrassing moment in your life? Making an awkward comment to a Tesco buyer at a dinner in London, who was sitting next to me – and then trying to glaze over it as if it never happened!
Which celebrity would you most like to work with and why? The Two Ronnies – they were so funny!
What would your death row meal be? Charcuterie, cheese and a glass of White Burgundy. I'm thinking Iberico ham, salchichón, the best gorgonzola cheese and a good goats' cheese, fresh ciabatta bread, olives and gherkins.