Seb Heeley

Co-founder & master distiller, Manchester Gin, on fizzy cola bottles, greengrocers and working with the woman he loves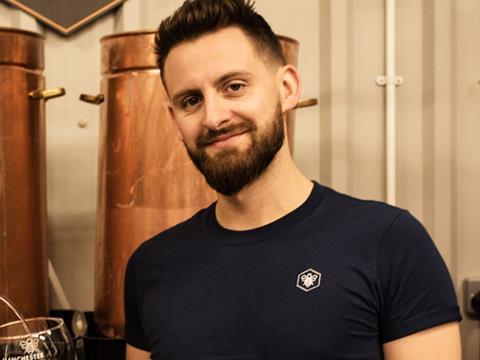 What was your first job? A sales assistant at the now-closed Allsports (no reflection on my ability).
What's been your worst job interview? I went for a job and the advert said a 'client-facing role'. It was a door-to-door sales role and the interview consisted of knocking on doors for six hours.

What was the first music single you bought? I grew up around the time of girl power so unfortunately it was Spice World.

How do you describe your job to your mates? I mess around all day making gin and trying to look busy in front of Jen [Wiggins, co-founder].

What is the most rewarding part of your job? Working with the woman I love most in the world.

What is the least rewarding part? Cleaning the stills is always a low point of the day.

What is your motto in life? F*** it. This has also become the motto of our company.

If you were allowed one dream perk, what would it be? A never-ending supply of fizzy cola bottles that didn't rot my teeth or make me fat.

Do you have any phobias? Needles. I've hated them since I was a child and it shows no sign of letting up.

If you could change one thing in grocery, what would it be? I'd love to see a resurgence of more independent, old school greengrocers - I love the tradition behind old, local stores.

What luxury would you have on a desert island? A still. 'Give a man a bottle of gin and he can drink for a night. Give a man a still and he can drink…'

What animal best reflects your personality? A monkey. I'm a little bit cheeky but a good problem solver.

What's your favourite film and why? Pulp Fiction. The intricacy of the story means you can have watched it for the 10th time and still see something you missed.

What has been the most embarrassing moment in your life? To be honest nothing much embarrasses me. That said I used to get mistaken for a girl when at school due to the length of my hair.

Which celebrity would you most like to work with and why? Nicole Scherzinger. I don't think I need to say why.

What would your death row meal be? Steak tartare, rack of lamb with dauphinoise potatoes and sticky toffee pudding (with extra toffee sauce).