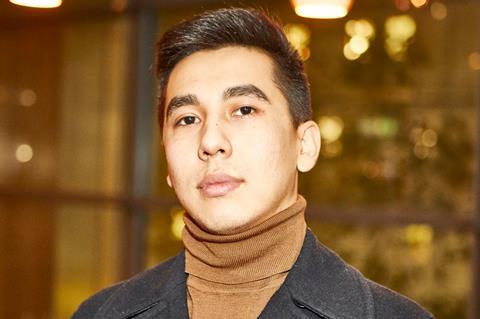 Name: Askar Bulegenov
Age: 24
Job title: Founder & CEO
Company & location: Grocemania, Kingston upon Thames, London
Education: Kingston University London – International Business
Why did you decide to go for a career in food? I've always been interested in entrepreneurship and the business environment, and once during my final year at Kingston University I got ill and asked a couple of my friends to bring me strawberries and sweets from a local Tesco store. I was so tired after a placement job and university session, but all my friends forgot to get what I asked for! Once they came without any snacks, I simply screamed why no one like Just Eat or Deliveroo (at the time they weren't even thinking of entering grocery) could bring some sweets on demand from a local store, and I would pay a small commission or delivery fee. That's how Grocemania started.
Explain your job to us in a sentence (or two): My job is to ensure all customers are getting their orders on time; plan how we will grow and scale new channels to attract customers; research and support the sales team with onboarding new stores; foresee future challenges and overcoming them; plan tech infrastructure and develop a company roadmap; take care that the CS team is performing well and make sure everyone in the team is happy! Basically, as a founder I have to engage with every department and employee to ensure we are all on the same page, everyone is motivated, happy and working towards the same goal!
What does a typical day look like for you? Being an entrepreneur in the grocery industry is a good challenge. A day for me can start with answering emails and phone calls, then going to five different stores across London to show them how everything is working, and then have a number of different meetings with potential partners, employees or media reps. So, it always depends on the goals we currently have and I personally believe that any good entrepreneur needs to be flexible and adapt to meet goals and perform at the most efficient level!
"The major challenge for me as a young entrepreneur was a lack of knowledge and making people believe in the idea"
Tell us how you went about starting your own business. Did you face any challenges? The major challenge for me as a young entrepreneur was a lack of knowledge and making people (investors) believe in the idea and myself. The only advice I can give to self-starters now is to never give up, if you believe in the idea and can see it working – speak! Ask for opinions, think through the financial model, look for new ways to promote it and never give up! First, you are working for a brand name and after, the brand name works for you!
What's the best part about working for a food company? The best part of working in a food logistics company for me is to see happy customers and partners. Once, I was personally delivering an order to a local mum with an ill child and she almost cried, saying she couldn't leave the house as her daughter was sick but needed babyfood, medicine and wine for herself. So we saved her and that was the moment I realised: I will do everything it takes to make this project a success!
And what's the biggest misconception people have about working in food & drink? I think the biggest misconception is that the work will mostly be associated with food – it's not like this anymore. We are living in the 21st century and most of the work is related to tech nowadays. So, even if it is an ice cream brand or any other product, you will always need a good SEO expert, PPC manager, IT professionals and much more to promote the brand well and let people know about it.
What's your ultimate career dream? Helping local retailers to compete more effectively with big brands, and helping customers to get their groceries delivered in minutes for only £2.50, is quite a challenge and my major career dream at the moment is to make this service national and then global, as I can see it working in almost all countries now.
However, my ultimate career goal is to keep launching products and services which will have a major impact on people's lives, local communities and the earth in general. For example, I have a big dream of cleaning the polluted city air back in my hometown of Almaty, Kazakhstan, as it has a chain of mountains all around the city and emissions are stuck due to ventilation problems.