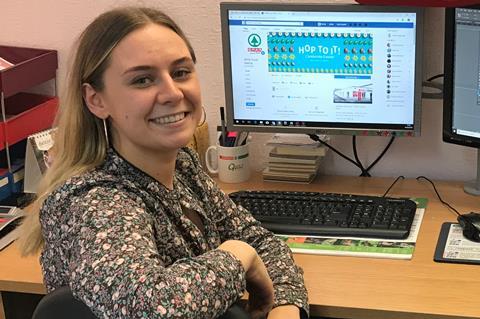 Name: Betsy May Saunders
Age: 23
Job title: Digital marketing coordinator
Company & location: Appleby Westward – Spar South West Saltash, Cornwall
Education: BA (Hons) Marketing at the University of the West of England
Why did you decide to go for a career in food? A career in food wasn't necessarily my aim when I was looking for a job. Coming out of university I knew that I wanted to go into digital marketing, and moving back to Cornwall I was initially nervous about the amount of career choices I would have, especially in regards to my peers who stayed in Bristol or moved to London. So, when I saw this opening at Appleby Westward I jumped at the opportunity – and I soon learnt that working with food was an added bonus!
Explain your job to us in a sentence (or two): Working with retailers and suppliers to create rounded and streamlined social media platforms for Appleby Westward and Spar stores across the south west – aiming to increase footfall, revenue and brand perception.
What does a typical day look like for you? After five long minutes in the car, I arrive at work. First thing in the morning I'll go through our social channels, as well as those of our retailers – I always like to record what's been working and what hasn't and from there I can schedule my content for the coming day.
Next, depending on the day, I will create an image, GIF or file to post on our closed Facebook page, aimed to support retailers with their social media uploads. Then I will probably be creating or scheduling a variety of campaigns building momentum for summer using paid-for, location-based targeted Facebook and Instagram ads.
Tell us about how you went about applying for your job. My application to Appleby was relatively straightforward. I saw the opening on Indeed, applied with my CV, cover letter and an example of some creative content I made for my dissertation. I was lucky enough to be invited to the interview and I assume it went well as I was offered the job a few days later!
As with every interview, when invited to ask them anything, I ask about the office culture. This is really important to me as I know the types of environments that are right for me, and those that are not. So don't be afraid to ask questions like this – because enjoying where you work is extremely important and I think it shows the employer that you're mature enough to understand that you want to know if the job's right for you as an individual.
"Office culture is really important as I know the types of environments that are right for me"
What's the best part about working for a food company? The staff shop opens every Thursday and it's honestly the highlight of my week. We also get to try lots of new releases, so I often take some home for my mum and that keeps me in her good books.
But on a serious note, as with most retail industries, food and drink is extremely fast-paced and constantly changing and evolving – so every day is different and I really enjoy that.
What's the biggest misconception people have about working in the food and drinks industry? I don't think people realise how much planning and effort goes into the visual elements of their shopping experience in supermarkets or convenience stores. Point of sale is extremely important and the planning process isn't as straightforward as I think many would assume.
What advice would you give to other young people looking to get into the food & drink industry? As with most careers, experience is your best friend. So, if you're passionate about a particular career, try and get some kind of work experience or an internship. I worked as an intern in London for two months over the summer during my second year at university, and I think the experience supported my application at Appleby and allowed me to stay focused after university as I already knew what I wanted to do.
What's your ultimate career dream? Right now I'm really enjoying building upon my skillsets and being in a real working environment. So I'm definitely still figuring out where I want to be as my ultimate dream. However I like to keep busy, so as well as progressing in my career at Appleby I also hope to grow my business that I started independently during university and see where that takes me.