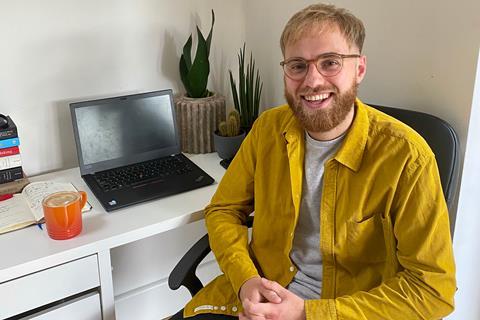 Name: Frankie Ingram
Age: 23
Job title: National account manager
Company & location: PepsiCo, Reading GB
Education: University of Warwick, Politics and International Studies
Why did you decide to go for a career in food? As a student, I was looking for graduate roles that focused on breadth, as I wasn't ready to leap down a specialised career path. I was also seeking the scale and variety of opportunities that can be found at a global business. I completed a 10-week summer internship at PepsiCo, which provided me with an overview of the many teams that PepsiCo consists of, and the work they do. What I loved most was the passion everyone had for the work they were doing, and for PepsiCo's iconic brands!
Following on from my internship, I was offered a place on PepsiCo's Future Leaders Programme. I felt that the speed at which graduates transition through the business, alongside the flexibility to mould and develop my own unique skillset, was an extremely exciting opportunity that I couldn't turn down.
Explain your job to us in a sentence (or two): I manage the P&L for PepsiCo's juice brands (Tropicana, Naked and Copella) with two of the UK's largest convenience retailers.
What does a typical day look like for you? Ever-changing and fast paced! I am the voice that represents both my customer and PepsiCo, so attention to detail is crucial. My day ranges from working alongside my supply chain and finance colleagues to improve forecasting, to externally managing relationships with my customers, and pretty much anything in between.
"I particularly appreciate the flexibility and the sheer breadth of opportunities that PepsiCo has to offer"
Tell us about how you went about applying for your job. I was offered a place on PepsiCo's Future Leaders Programme following a summer internship during my second year of university. In terms of the internship application, it consisted of four stages including an assessment at the Reading office. The assessment involved a group exercise, competency interviews and a presentation.
What's the best part about working for a food company? I particularly appreciate the flexibility and the sheer breadth of opportunities that PepsiCo has to offer. During the peak of Covid-19, I was able to take time away from my desk, which I used to help co-ordinate a large donation of product from our Quaker Oats brand to two local food banks. I volunteered with the charity for a day, which was really rewarding.
On a less serious note, another great thing about working for a food company is that PepsiCo has an awesome staff shop … As we have so many iconic brands, it's like a treasure trove in there!
And what's the biggest misconception people have about working in food & drink? My family seem to think I have an endless supply of Walkers crisps!
What advice would you give to other young people looking to get into the food & drink industry? Food and drinks brands are everywhere, so they'll probably be surprised by the sheer volume of roles available in an fmcg business. I would recommend that they first find a business that aligns to their values. Then they shouldn't be afraid to reach out to people in roles that seem interesting to them – even though people are busy they're usually more than happy to help. A graduate programme like PepsiCo's – which offers opportunities across many different areas – would be a great place to start if they (like I was) are unsure about where their skills will be best suited.
What's your ultimate career dream? The perfect role for me would be a synergy between my passion for sales and strategy, alongside people management – guiding and working with a team to achieve success.