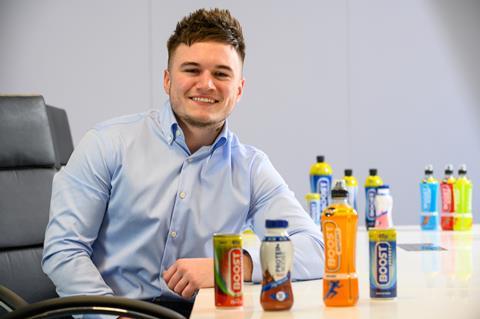 Name: Jack Taylor
Age: 23
Job title: Trade marketing executive
Company & location: Boost Drinks, Leeds
Education: Northumbria University, BA Business, Management & Marketing
Why did you decide to go for a career in food & drink? I knew that marketing was a passion of mine, but I wasn't sure in which industry to make my mark. Prior to this role, I experienced work in a couple of different sectors such as telecommunications and even theatre management. However, during my business, management & marketing degree at Northumbria University, I had my first taste of the food and drink industry: we were set a project with Greggs developing products in line with growing consumer food-to-go trends. This is when I discovered that this industry is exciting, progressive and has plenty of opportunity to implement the modern marketing methods I had studied, so that was how I decided!
Explain your job to us in a sentence (or two): My role as trade marketing executive is to grow Boost's brand presence within the trade side of the business, such as with wholesalers and independent retailers. Our trade proposition is 'we love local', which ensures that we take retailer comments on board and focus on launching NPD, promotions and activity that will maximise retailers' sales as much as possible.
What does a typical day look like for you? Day to day, I work to engage with our target audience as much as possible – independent retailers. This involves lots of digital engagement and content creation through managing our corporate Twitter account, reaching out to retailers through regular e-newsletters or representing Boost at sales-led events such as the National Convenience Show.
I'm also in regular contact with multiple suppliers and agencies in order to deliver the key marketing campaigns we have planned throughout the calendar year, all to deliver our trade message that we love local! This can range from driving across Northern Ireland with an MC delivering crates of Boost to our key retailers, sending out cheesy Valentine's cards to store owners or even dressing head to toe as an elf and helping retailers stock up their cars with product at Christmas!
Tell us about how you went about applying for your job. A recruitment agency put me forward for the role based on my personality, my enthusiasm for the food and drink industry and the past experience I have of working in marketing. The interview was a two-stage process with my current team and I was hugely prepared for it, learning every detail of my CV and memorising answers to every question I could possibly be asked. However, it was surprisingly relaxed! At Boost, it is all about personality. They are looking for confident, passionate and dedicated individuals so placed more focus on getting to know me as a person and whether I would fit with the brand ethos. So, after about a month and a couple of meetings, I was offered the job!
What's the best part about working for a food/drink company? Of course, the endless supply of free energy, sport and protein drinks is great! But mainly, the best part is working on a project from start to finish, and then seeing it come to life in an actual shop or wholesalers. I get such a buzz from seeing all our hard work being exposed to the public, which then delivers positive results for the company. On the trade side of things, it is also brilliant to see and meet the independent retailers that we work so hard to support. Everything we do helps their businesses succeed and getting to know them face to face and feel that appreciation brings huge job satisfaction.
"Ensure you join somewhere you can make a genuine difference and will never lose your enthusiasm"
And what's the biggest misconception people have about working in food & drink? That if you're not in the supermarkets then you're not doing very well. Here at Boost, we're living proof that is not the case!
What advice would you give to other young people looking to get into the food & drink industry? I would say that experience is key as it really speeds up the recruitment process. While you can, try and get as much paid or unpaid experience as possible, as it really will pay off in the future.
I would also point out that the industry is massive, so it's important to do plenty of research into different companies before deciding. One company may suit your skill-set or your personality way more than another one. Ensure you join somewhere you can make a genuine difference and will never lose your enthusiasm, otherwise get out there and look for something else!
What's your ultimate career dream? I am really inspired by the entrepreneurship of Boost's MD, Simon Gray. He started with something small, invested in it and with plenty of motivation and passion has turned it into the amazing business it is today. I would love to have my own business and see a product or service I have created grow to an international scale – that's my big dream!