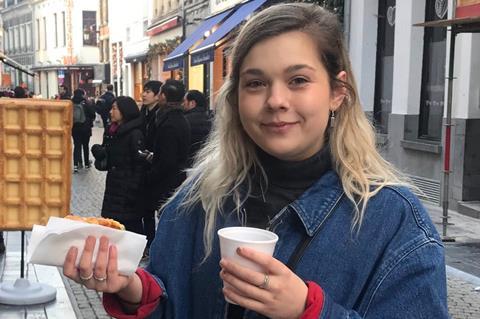 Name: Jessica Gutaj
Age: 22
Job title: Sales executive
Company & location: Nix & Kix, London
Education: Oxford Brookes University, International Business Management
Why did you decide to go for a career in food? Most of the food I buy is from the free-from section of the supermarket, so naturally I am a lot more observant of the products on the shelves. I am fascinated (and a little obsessed) by the constant innovation and it's impossible not to be excited by the industry… so I just had to get involved!
Explain your job to us in a sentence (or two): To sum it up, I introduce Nix & Kix drinks to customers who may have not seen them before. The selling part is easy… the drinks speak for themselves.
What does a typical day look like for you? My sales role is split 50% out-of-home and 50% grocery, and a focus of mine is to come up with strategies to increase sales within wholesale and foodservice. My career began with a backpack full of cans, a (decent enough) pair of trainers and a playlist with my favourite podcasts. I waddled around the streets of London visiting existing customers and driving new business. I even ventured overseas to introduce Nix & Kix to the city of Dublin!
When visiting our grocery retailers, my goal is to help maintain stock levels on shelf as well as make it look pretty, with the added bonus of having a chinwag with store managers, staff members and even security.
Now I am reaching out to online retailers, subscription boxes and takeaway restaurants. I also do weekly analysis of sales data from our grocery retailers and one of our wholesalers. I have had to learn a whole new way of selling, and it's so great to see so many new businesses popping up and the willingness to get new suppliers like us on board!
"Show that you want to learn but also that you want to help the business grow"
Tell us about how you went about applying for your job. I was searching for a placement opportunity and found the Nix & Kix ad on LinkedIn. I sent in my CV and cover letter immediately, and I could not stop thinking about it until I got the call! For my first interview, as well as answer a few general interview questions, I had to prepare a few slides that included examples of retailers I think Nix & Kix would add value to and my understanding of the brand's main competitors. The second stage was an interview with the co-founder, Julia. For this, I decided to get a bit creative… I brought along a health drink brand from Poland (I am Polish) to show why I think Nix & Kix would also fit that market. My enthusiasm and sales pitch helped me bag my dream placement.
What's the best part about working for a food company? Definitely the consumer and trade shows and events. I learnt how to sell to different customers, whether this be a wholesaler from Germany or a 'foodie' from Ireland and had the chance to travel to Cologne to exhibit at the biggest trade show in Europe (as well as Thrive Festival in Dublin and Lunch Show in London). The days are spent sampling, networking, chatting away and (my favourite part) swapping product samples with other brands that are exhibiting!
And what's the biggest misconception people have about working in food & drink? That you need a tonne of experience to get your foot in the door.
What advice would you give to other young people looking to get into the food & drink industry? An internship or placement in a startup is a great way to kick off your career in the food & drink industry – it will teach you the most about what it means to operate as a business. Show that you want to learn but also that you want to help the business grow. Be prepared to be involved with aspects that may not be specific to your job role – that's the beauty of it! Also, scrub up your LinkedIn profile.
What's your ultimate career dream? To be a foodie turned food business owner.