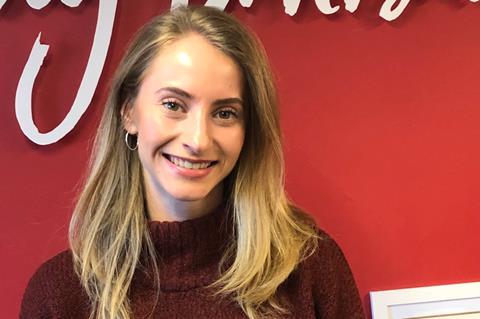 Name: Kimberley Dorman
Age: 25
Job title: Marketing executive
Company & location: British Corner Shop, Yate
Education: University of Southampton – Psychology BSc, Birkbeck – Occupational Psychology MSc
Why did you decide to go for a career in food? Actually, I'd say that a career in food found me. I've always been a massive foodie (known for my love of cheese), so when I came across the job opportunity at British Corner Shop for a role that revolved around writing about food – I knew it was too good to miss. To say that food (both cooking and eating it) is one of my main passions in life would be an understatement, so I immediately gelled with the role.
Explain your job to us in a sentence (or two): As a marketing executive, my role is varied and ever-changing. My main responsibilities include writing foodie content for our blog and social media platforms as well as managing our affiliate partners and providing support to my colleagues.
What does a typical day look like for you? My first port of call is always interacting with customers on social media and creating content to engage with our 120k+ followers on Facebook (many of whom feel like friends). I also spend a lot of my time managing our affiliate program and supporting the communications manager with various tasks from filming content (aka 'food porn') for Instagram to creating paid Facebook adverts.
"The best thing is the response from our customers when we're able to reunite them with their favourites from the UK"
Tell us about how you went about applying for your job. As with any marketing role, during my interview I was grilled about my knowledge of the various channels, as well as testing my writing skills. While these questions were tough, especially as this was my first marketing role, I was fully prepared and I had a good rapport with the interviewers (now managers) so I knew that I would fit well with the company.
What's the best part about working for a food company? As I work for a company who export British food and drinks to British food lovers all over the world, I'd say the best thing is the response from our customers when we're able to reunite them with their favourites from the UK. It's easy to underestimate how emotive food is, but it honestly is the best feeling to see how happy customers are when their home comforts arrive.
And what's the biggest misconception people have about working in food & drink? I'd say the biggest misconception is that you get loads and loads of food samples – you get a lot less than you think!
What advice would you give to other young people looking to get into the food & drink industry? I would advise other young people to gain as much experience in the different sectors of the industry as possible. Working in the food industry doesn't mean that you must be a professional chef (although you can be!), there are countless roles from customer services to in-house designers. The sector which you enjoy and plays to your strengths is the one you'll thrive in the most.
What's your ultimate career dream? My ultimate career dream would be one which allows me to live somewhere sunny with at least two dogs. All jokes aside, my ideal job would be to run my own sustainable food company which gives back to society whilst also bringing joy to people's lives (and what better way to make people happy than through food?).