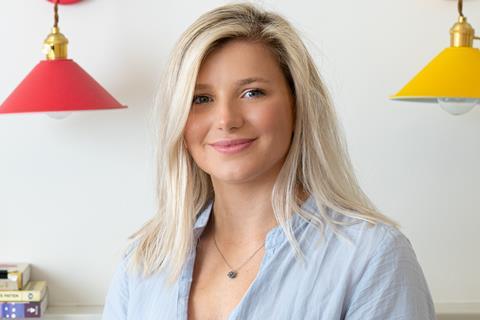 Name: Lucy Squires
Age: 24
Job title: Marketing manager
Company & location: Rubies in the Rubble, London
Education: I went to school in Shropshire – I have four A-levels in English language, art, psychology and business studies.
I then went on to join the first cohort of Nestle's Sponsored Degree programme. It was split between working at Nestlé HQ (the first two years were spent rotating through four different commercial functions of the business), while also completing a business degree at Sheffield Hallam University.
The scheme was incredibly intense but I'm fortunate for the broad understanding of different commercial functions I gained so early on in my career.
Why did you decide to go for a career in food? My part-time job in sixth form was at Waitrose. I loved the fast-paced nature of the shop floor and speaking to customers about all the different products. I remember being really interested in what they were cooking and the occasions they were hosting. When I stumbled across the Nestlé Sponsored Degree, applying seemed like a no-brainer.
Explain your job to us in a sentence (or two): I set the strategy and lead the day-to-day running of the marketing team. This stretches from trying to understand more about our consumers and customers, to challenging how we're expressing our brand to create an emotional connections with our consumers, to sharing why we exist and the vision for our future with various stakeholders.
What does a typical day look like for you? It sounds clichéd but there rarely is one day the same. In the last eight months alone I've run a public crowdfund, led the redesign of our brand, and collaborated with Boxpark Shoreditch on a trial campaign.
However, I'd usually start a Monday by double-checking that social media content for the week is ready and scheduled. Then I could be helping to prepare a customer presentation, reviewing new products that have entered the condiment market, preparing for a brand activation, on my feet at a photoshoot, or even packing up sample boxes for journalists and taking them to the local post office.
"There's so much human and ecological effort that's involved in the farm to fork process that isn't seen"
Tell us about how you went about applying for your job. After five years at Nestlé I knew it was time for a big change. I wanted to experience a completely different business and work for an organisation where positive environmental or social change was at its core.
A recruiter got in touch sharing the job description for a marketing role at Rubies and it all went pretty quickly from there. There were three interview rounds: the first was with the commercial director and brand designer, and the second was with Jenny, the founder. When Jenny started breastfeeding her newborn baby in the middle of the interview I knew Rubies was the personable and progressive company I was hoping to find! The final round was lunch with the team to double-check that I was the right cultural fit.
What's the best part about working for a food company? I love being at the forefront of trends. So many wider societal changes are first seen in food, as food is very often humanised. For example, with consciousness of the environment increasing, consumers are looking for food brands that share their values and act on this.
And what's the biggest misconception people have about working in food & drink? I don't think that people outside food and drink understand the complexities and resources that go into getting every single product on to a shelf. There's so much human and ecological effort that's involved in the farm to fork process that isn't seen. Which is one of the reasons I think so much food goes to waste. People just see a 40p yoghurt in their fridge, and if it isn't eaten just see the 40p they've wasted, not appreciating all the people and planet resources that's gone into getting it to them.
What advice would you give to other young people looking to get into the food & drink industry? I would encourage young people to get as much broad experience as possible early on. Not only it will show you where your strengths lie, and what parts of business you really enjoy, it will also give a wider appreciation for how functions work together.
What's your ultimate career dream? My ultimate career dream is to lead a business just like Rubies in the Rubble, which is a hungry, optimistic and energetic team striving to make a positive impact on the planet.