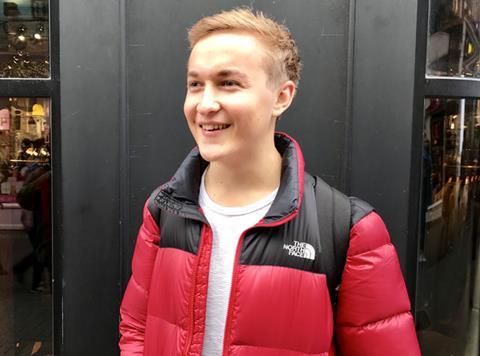 Name: Toby Fleming
Age: 24
Job title: Sales executive
Company & location: The Curators, London
Education: Geography & Sociology, Oxford Brookes University
Why did you decide to go for a career in food? Believe it or not I have actually always wanted to go into a career in food. Food has always been a massive part of my family's life, and that became pretty ingrained into me through my parents. I have always loved cooking, and as I've grown older the ever-changing face of the food industry has always fascinated me. I was always looking out for new products and restaurants and wanted to be a part of the excitement!
Explain your job to us in a sentence (or two): Being quite a small company (only four of us!), it is pretty varied. But in short, it's all about business development and managing accounts. Persistence and charm is definitely the name of the game.
What does a typical day look like for you? The beauty of this job is that no two days are ever the same! I will start and end most days in the office chasing leads and managing accounts, but am often out and about meeting buyers. Meeting people and telling them all about our mission at The Curators is the best bit of my job.
Tell us about how you went about applying for your job. How many stages were there, what did you have to do? Any particularly tough questions? I actually got introduced to Ed and Max (The Curators co-founders) at the end of my internship with Pip & Nut. I met them for a couple of coffees and that was that really! They luckily saw something in me which I am forever grateful for. The hardest part was that it was before the brand had launched, meaning I couldn't actually research them like you would for a normal interview. I knew that they wanted to really disrupt the meat-snacking category, and I knew straight away they were onto something and had to be a part of it. I then did everything in my power to make this happen, and luckily they took me on and here I am.
"I knew straight away The Curators were onto something and had to be a part of it"
What's the best part about working for a food company? What's not to love? It is unbelievable. It's an industry that will always be growing and developing, due to the fact people need to eat. This means it's ridiculously fast-paced and you have to always be thinking ahead to keep up. It's also an extremely sociable industry, and I love talking, so that helps! Everyone I know in the food industry is kind and passionate about their brand. It feels like you're part of a huge start-up community where everyone is in it together. The free food and drink is also a sensational bonus.
And what's the biggest misconception people have about working in food & drink? Most of my mates think I spend my days eating snacks and talking non-stop. Just because we don't wear suits they automatically think the job is easier, which is just not the case. When you work for such a small company, you have some really tough times and there is an awful lot of behind-the-scenes work that they don't realise has to happen (with less people to manage that workload!). The bit most people see is just the cherry on the cake. There are plenty of challenges along the way that require some serious resilience and drive to overcome. But these make it all the sweeter when you smash through them together.
What advice would you give to other young people looking to get into the food & drink industry? You definitely need to network and be sociable. Everyone in the industry is so lovely, if they like you then they will give you a shot. Small start-ups are always looking for help, and all it takes sometimes is an email, and you're suddenly talking straight to a founder of a company (rather than just another HR department). I was always put off the industry as I had no contacts in it, but eventually thought I had nothing to lose, so sent a few emails and here I am! I know that I'm so lucky and cannot recommend the industry enough.
What's your ultimate career dream? First thing first, I want to see The Curators grow and become the brand I fully believe we can. The Curators has huge potential, and I work with an unbelievable team who I know can help us do really big things over the coming years. I would love to keep growing alongside the company, and who knows, one day I would love be as brave as Max and Ed and set up a company of my own in the fmcg world.