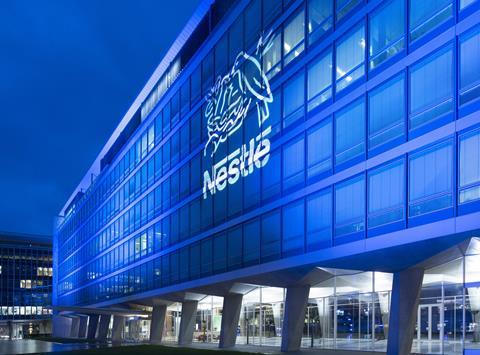 Nestlé's leadership has defended its governance arrangements against criticism from an influential activist investor, insisting that the collaborative relationship between the chief executive and chairman was not hindering the Swiss food company's growth plans (Financial Times). Corporate governance practice in the UK and the US typically frowns upon chief executives becoming board chairman and overseeing their successors. Nestlé has had such an arrangement — which is more common in European countries — for decades. Such governance at Nestlé has been criticised by Daniel Loeb's hedge fund Third Point.
The former marketing chief of Patisserie Valerie is suing the troubled bakery chain for £325,000 in a claim over the non-payment of bonuses that is critical of the company's management (The Times £). Nicola Hedley, who worked for three years as group marketing manager before becoming third-party relationship manager, has filed a complaint at an employment tribunal in Birmingham.
Fortnum & Mason has achieved record annual sales despite challenging trading conditions in the UK, as Brits embrace the "calming properties" of tea and biscuits (The Guardian, Daily Mail). The retailer, best known for its flagship store in Piccadilly, London, used to be seen as a tourist hotspot but in recent years it has broadened its appeal by targeting foodies with British-made products (The Times £).
Fortnum & Mason is launching a beekeeper apprenticeship to attract fresh talent into the niche industry as the luxury brand boosts the numbers of hives it has around the capital (Telegraph).
Sandwich packaging is to be targeted by a new tax in a bid to cut down on waste. The move, set to add 15p to prices, could be introduced by Environment Secretary Michael Gove as early as this week (The Mirror).
Sitting back with a glass of wine while listening to a live jazz band sounds like a typical night out in London – but what might surprise some is that you can experience it all by popping to a Waitrose supermarket (Telegraph). Customers at the grocer's King's Cross branch have been spotted dancing in the aisles while they shop, as the store transforms into a "lively hub" every Thursday evening with a free jazz concert, filled with saxophones, guitars and drums. It forms part of a sweeping move among retailers to lure people back to the struggling high street
Shoppers who scour the high street for the best possible deals will still face the most expensive Christmas dinner in a decade (The Guardian). The UK's cheapest traditional festive spread will cost nearly 6% more than last year after the hot summer combined with uncertainty about Brexit to drive up the price of turkey, sprouts and Christmas pudding, according to the latest annual survey by Good Housekeeping magazine.
Beer sales are up 4.4% on the same quarter last year, thanks to England's success at the World Cup and the hot summer, figures show (Independent). Pubs in particular benefited from the favourable conditions, with sales increasing 0.9 percentage points – the sector's first third-quarter growth in more than 15 years, according to data from the British Beer & Pub Association (BBPA).
"If only Dave Lewis hadn't left Unilever. The Tesco boss might now be limbering up to run the show — rather than Alan Jope, the man who replaced him in the Brut and Brylcreem department," writes Alistair Osborne for The Times (£). "Of course, as a consumer business in Brexit Britain, these are trying times for Tesco. But how come the shares keep underperforming rivals? Explaining all that is tricky. But one thing seems clear. Mr Lewis is yet to convince investors of his Tesco turnaround. Indeed, he might struggle to convince himself that he was right to leave Unilever."
"The rise of 'alt meat'. Why our chicken and beef will soon be grown in the laboratory." The Telegraph's Olivia Field writes, "in a converted warehouse in San Francisco, a group of scientists are working on creating laboratory-grown meat. Their company, called Just, recently announced that it had created chicken nuggets grown from stem cells found in a chicken's feather."
"It has been a grim few months for Dia Group, the Spanish supermarket chain," writes Ian Mount, for the Financial Times. "The chairwoman and chief executive have resigned, the head of finance has been fired, while the company's dividend has been slashed and its debt downgraded to junk."
A children's toiletries brand set up by a former investment banker in her barn has bagged its first overseas deal with an agreement to be stocked in shops across Australia. Joanna Jensen, who left a City career to become a horse breeder, started Childs Farm with a homemade recipe to soothe her daughters' sensitive skin (Telegraph).
The ban on single-use plastic bags by Australia's two largest supermarkets prevented the introduction of an estimated 1.5bn bags into the environment, and the retail industry is hopeful this is only the beginning (The Guardian).
Sportswear tycoon and House of Fraser owner Mike Ashley is set for a showdown with MPs tomorrow over a £900million government handout to help high street retailers that sees his company receive less than £89,000 a year (Daily Mail). The billionaire is understood to be livid at what he regards as a bungled attempt by Chancellor Philip Hammond in last month's Budget to help Britain's high streets.
"Laid-off Sears workers left with nothing – and they say wealthy bosses are to blame," writes Michael Sainato for The Guardian. "Thousands of workers have been fired and outrage has been directed at the stewardship of billionaire CEO Eddie Lampert."