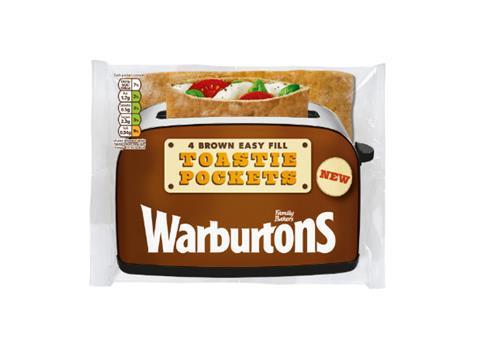 Warburtons is expanding its range with Toastie Pockets, a new type of bread pocket that can be filled and toasted.
Rolling out now, the launch comes on the back of a £53.4m loss in value sales for the Bolton bakery giant [Nielsen 52 w/e 8 October 2016], and hit shelves one day ahead of the Kingsmill Super Toasty bagged loaf from Allied Bakeries, which unveiled fruit-filled Kingsmill Toasties in September.
The Toastie Pockets range features bread 'pockets' in white and brown variants, which can be filled and put in a toaster (rsp: £1.20/pack of four).
Warburtons is looking to position the NPD as an alternative to traditional toasties that require a special toaster. However, unlike toasties made with appliances from Breville and the like, the Warburtons pockets do not create a sealed sandwich.
Toastie Pockets took 16 months to develop, according to Warburtons innovation director Darren Littler. The bread was formulated to be "really robust" while going "lovely and crisp" on the outside and remaining "airy" within, he said. The aim was to add "excitement" to the growing sandwich alternatives market while tapping demand for convenience, Littler added. "Everybody loves a toastie, but not the faff of making them."
The launch will be supported by a campaign involving radio and OOH media, with a focus on London.
Warburtons isn't alone in targeting toasties with NPD. Kingsmill unveiled its tearable Toastie squares four months ago and followed up with the Super Toasty loaf in November, promising bread that would go crisp on the outside and stay 'pillowy' in the middle.