Innovation is at the core of the speciality food and drink industry, and it will be fully on show at this when the Farm Shop & Deli Show returns next year, having been postponed as a result of extended Covid-19 restrictions.
From the hundreds of exhibitors set to be at the event, here are 10 new products that highlight the creativity of suppliers. Some demonstrate the ability of businesses to adapt in the face of the Covid crisis, while others are examples of additional trends shaping today's market.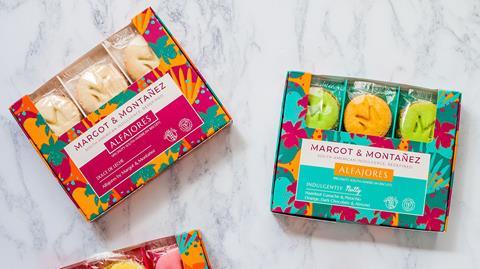 Alfajores gift packs
Supplier: Margot & Montañez
Founded last year by Jen Munson-Montañez, Margot & Montañez produces South American sweet treats. Munson-Montañez learned to bake at the side of her grandmother Margot, while growing up in Caracas, Venezuela. The cornerstone of the business is alfajor, a light, shortbread-like sandwich biscuit available in a range of flavours including Fruity, Nutty and Caramel. At this year's Farm Shop & Deli show, Munson-Montañez will unveil alfajor premium gift packs.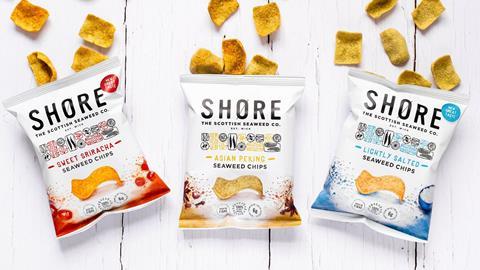 Seaweed Chips
Supplier: Shore
Scottish business Shore has developed these chips to tempt consumers who might be put off by the strong 'fishy' flavours associated with imported seaweed products. Made from wild seaweed sourced from the remote coastline around Wick in north-east Scotland, each 25g serving contains 6g of seaweed. They are available in Lightly Salted, Asian Peking, and Sweet Sriracha in 25g (rsp: 99p) and 80g (rsp: £1.99) packs. The chips are sold in more than 300 independent stores across the UK, Co-op and Sainsbury's in Scotland, and online at Amazon and Holland & Barrett.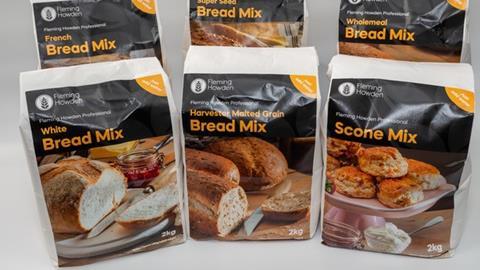 Bread and cake mixes
Supplier: Fleming Howden
A long-established supplier of ingredients to the baking industry, Fleming Howden has this year rolled out a range of retail products. The launch follows the business repacking its 16kg flour sacks into smaller packs to meet soaring consumer demand during the first lockdown. This encouraged Fleming Howden to develop a dedicated retail range using flours of "the same quality and standard as those used by the best craft bakers in the country". Sold in 2kg and 4kg packs, the range includes six bread mixes, two cakes mixes, a scone mix and a pancake mix. Fleming Howden has also launched a snack bar, called Braw Bar, in two flavours: Salted Caramel and Bakewell. It is made to a traditional Scottish recipe of oats and honey-coated barley flakes.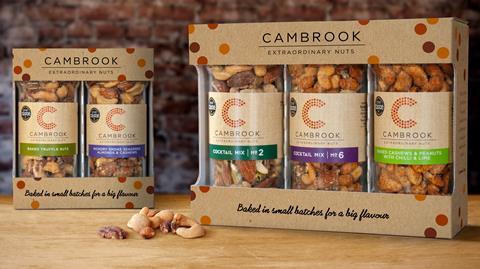 Nut mix gift sets
Supplier: Cambrook Foods
Cambrook, which supplies many famous hotels, launched a range of nut mixes in a jar last year to tap the gifting market, while also offering a fully recyclable product suitable for retail. An "outstanding" performance has encouraged the supplier to expand the lineup to seven variants and develop two gift sets that will launch at the Farm Shop & Deli Show. The two-jar set (rsp: £14) contains Hickory Smoke Seasoned Almonds & Cashews and Baked Truffle Nuts seasoned with truffle and sea salt. The three-jar set (rsp: £18.50) contains Cocktail Nut Mix No6, which was created for Claridge's; Cocktail Nut Mix No2, served at Dukes Bar; and Baked Cashews & Peanuts with Chilli & Lime.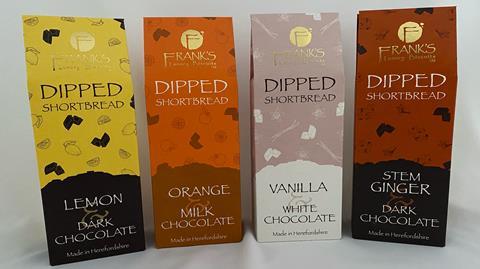 Dipped Shortbread
Supplier: Frank's Luxury Biscuits
Family business Frank's Luxury Biscuits is launching a range of shortbread dipped in Belgian Chocolate. With a six-month shelf-life, the biscuits (rsp: £3.99/150g) are available in Lemon & Dark Chocolate, Orange & Milk Chocolate, Ginger & Dark Chocolate and Vanilla & White Chocolate. The Hereford-based supplier launched the lineup to tap what it describes as explosive growth in dipped biscuits in recent years, and because of the popularity of shortbread. "British shortbread is world renowned, and we wanted to make something that stood out on the shelves," says business development manager James Anderson.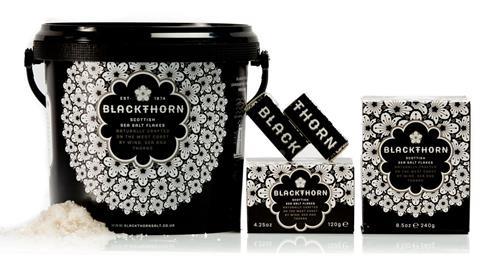 Scottish Sea Salt Flakes
Supplier: Blackthorn
Blackthorn revived an ancient method of production to last year with the launch of its salt supply business. Sea water is slowly trickled down a large wooden tower packed with Blackthorn branches and evaporated by coastal winds, before gentle heat finishes the process. Since launching, the business has supplied eight Michelin-starred restaurants, as well as artisanal manufacturers and caterers. The salt is available in three compostable, plastic-free and fully recyclable formats: 120g and 240g for retail (rsp: £3.90 and £6.40) and 1.4kg (rsp: £31.40) aimed at foodservice and hospitality.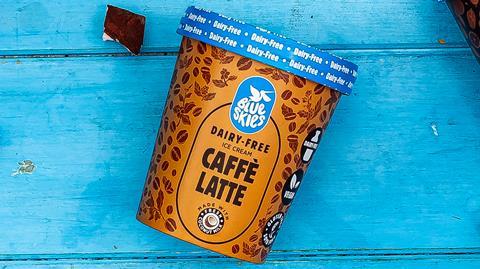 Caffè Latte dairy-free ice cream
Supplier: Blue Skies
Blue Skies has this year unveiled a new look and expanded its lineup. Set up in Ghana more than 20 years ago to supply fresh-cut fruit to retailers, Blue Skies has since grown its UK presence with fruit juices and ice cream that is dairy-free, plant-based, soya-free, gluten-free, nut-free and GMO-free. This year's ice cream packaging revamp has a cleaner, modern design and features a bold blue stripe around the lid. At the same time, the brand added Caffè Latte ice cream, currently available in Waitrose.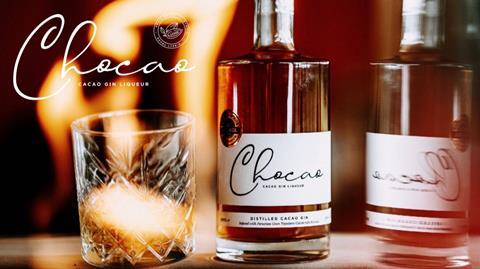 Rum liqueur
Supplier: Chocao
Chocao came into being after a chocolate maker, a gin producer and a marketer got talking about the lack of choice in after-dinner drinks, with whisky or brandy at one end and sweet and creamy drinks at the other. They set out to make an after-dinner drink that can be served neat or over ice, and has a warming sensation without the harshness of whisky and brandy. The result was Chocao, a cacao gin liqueur made from distilled cacao gin infused with Peruvian Gran Yapatera cacao nibs and husks. As well as rolling out a new look at the show, Chocao is launching a Chocao rum liqueur.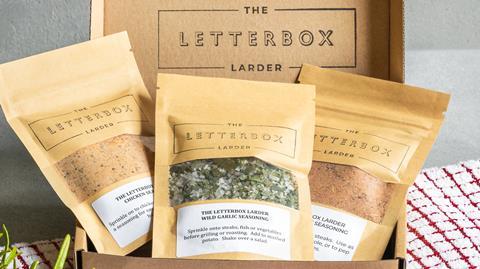 The Letterbox Larder
Supplier: Burren Balsamics
Founded in 2014, Burren Balsamics uses balsamic vinegar of Modena to produce a range of condiments. When the first lockdown hit and the business lost its foodservice trade overnight, it developed The Letterbox Larder range of pouched seasoning mixes, such as barbecue rib rub and a bouillabaisse base. While intended to be sold online, they have also proved a hit at retail through farm shops, delis and butchers. Launching officially at the Farm Shop & Deli Show, the packs retail for £3.49 and typically weigh 50g, though the company also supplies bulk packs from 1kg to 5kg.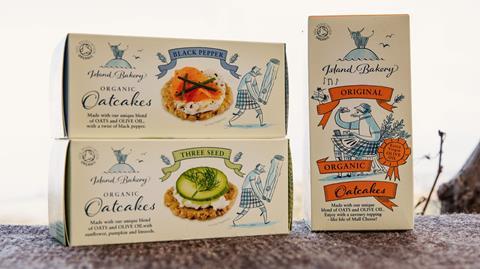 Organic olive oil oatcakes
Supplier: The Island Bakery
Based in Tobermory on the Isle of Mull, Island Bakery started out as a bread bakery that expanded to include a delicatessen. The business started producing organic biscuits in 2001, and this side of the operation grew rapidly through listings with customers including Harvey Nichols and Selfridges. Now in a purpose-built bakery, the business is best known for producing sweet biscuits, but recently created a range of savoury oatcakes that are made with extra virgin olive oil and are available in original, black pepper and three-seed variants.