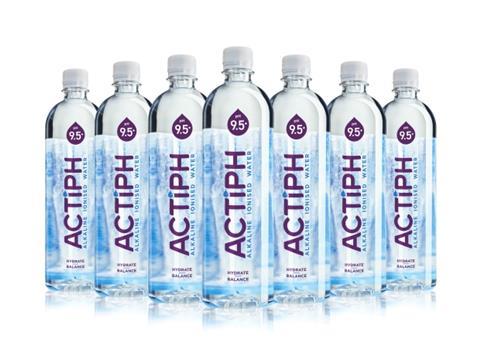 Actiph is gunning for the health pound with the launch of what it claims is the UK's first alkaline ionised water.
Billed as a "powerful" antioxidant, Actiph Water is made by purifying spring water and adding electrolytes before ionising the liquid with an electrical charge.
It will roll out initially in 600ml and one-litre bottles priced at £1.39 and £1.99 respectively, with the brand targeting listings in the likes of Whole Foods Market, Waitrose and Ocado.
"We're trying to take market share from coconut water, health, sports and energy drinks," Actiph CEO Jamie Douglas-Hamilton told The Grocer. "This is the birth of a whole new category. We are where coconut water was five years ago. Vita Coco had to educate the market, but now they own that market."
Alkaline ionised water is already booming in the US, where sales have surged 70% ($64m) to $156m (£118m) over the past year [Nielsen 52 w/e 26 August 2017]. Actiph hopes to replicate that success in the UK by targeting and increasing the number of "healthy, active consumers", Douglas-Hamilton said.
The launch will be supported by a circa-£500k push, including sampling at events, enlisting "influencers" and social media and PoS materials, with an eye to moving into more traditional marketing avenues.