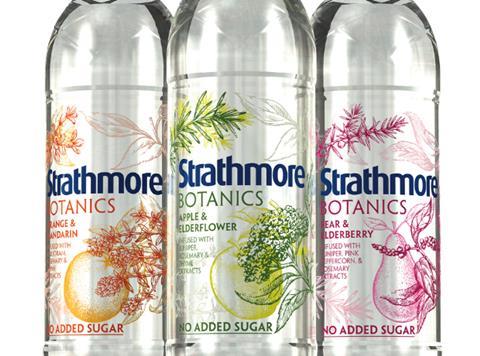 AG Barr has extended its Strathmore bottled water brand with Strathmore Botanics, a range of zero-calorie drinks infused with the likes of juniper, pink peppercorn and marjoram.
Sweetened with sucralose and packed in a PET bottle, the new still water lineup – unveiled this week – is available in three variants: Orange & Mandarin, Apple & Elderflower, and Pear & Elderberry (rsp: £1/500ml). Each features botanicals including rosemary and thyme.
Joining Strathmore's plain and fruit-flavoured Twist ranges, Botanics would tap demand for flavoured water and "the growing popularity of natural botanical tastes that consumers are increasingly enjoying across other categories" said AG Barr.
The bottled water market's value had grown by £148m in the past two years, "driven by an increase in the number of consumers making choices based on health" according to AG Barr marketing director Adrian Troy. "However, research shows that taste remains the number one priority for shoppers when choosing a soft drink, and within the water category, flavour choice is limited."