Every month we take an in-depth look at the hottest booze launches hitting the shelves of UK retailers. This time around we've got a more virtuous entry from the UK's biggest wine brand, and a posh gin made with surplus grapes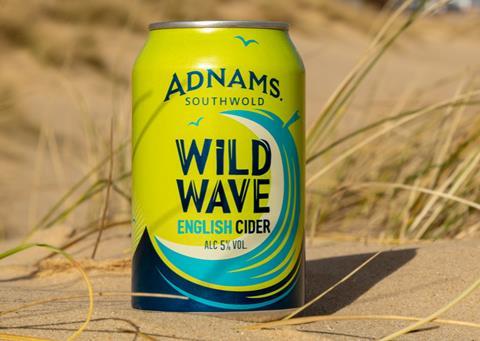 Wild Wave cider
Southwold brewer and distiller Adnams is moving into cider. Wild Wave (5% abv) is made with 100% English apples and billed as "a high quality, English, premium cider" with "refreshing" and "fruity" notes (rsp: £1.79/330ml).
"What most people don't know is that cider is much more of a winemaking process than it is a brewing process so James, our Master of Wine, and I experimented with a lot of blends to eventually craft the perfect blend for Wild Wave," said Adnams master brewer Fergus Fitzgerald.
"With Wild Wave, we tried to get the blend of bittersweet and dessert apples right, so there's a bit more tannin than you might find in some ciders and I think that really works."
Adnams isn't the only one taking a punt on Brits' growing love for posh apple ciders (which is being led in the supermarkets by the likes of Thatchers and Westons). Heineken this week announced it was revamping its Bulmers Orchard Pioneers brand to better reflect the drinks' "premium" credentials and bring them in line with more contemporary packaging trends.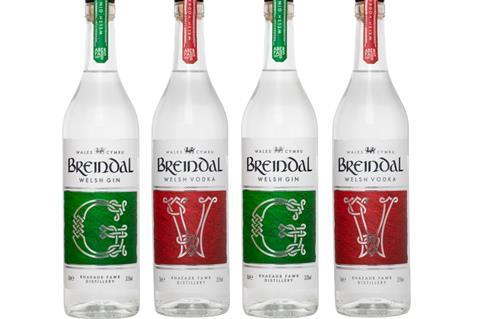 Aber Falls 'Breindal' gin & vodka
Halewood's Aber Falls distillery may be some time off releasing the single malt whisky stocks it is currently maturing (they will see first release from 2020), but there has been no shortage of NPD from the fledgling brand, for which Halewood is investing in a massive distillery and visitor centre.
This gin and vodka duo, called Breindal (meaning 'royalty'), is billed as being a more "accessible" range aimed at bartenders – although it will also see a retail release (rsp: £20/70cl).
The vodka, Aber Falls' first, "leads with a bright, citrus aroma, which is complemented by floral notes of rose and heather, shadowed by a smooth, creamy finish", according to the brand. The gin "is very versatile, suited to negroni cocktails, which shine a spotlight on its spicier notes, or in a French 75, highlighting its floral and citrusy charms".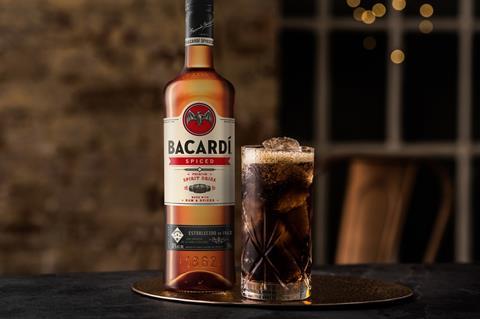 Bacardi Spiced
Given the wild success of Captain Morgan's spiced variant, it's no surprise Bacardi (which was overtaken by the Captain in value sales last year) wants in on the action. Having already unveiled the posh golden 'Anejo Cuatro' rum to cater to those with deeper wallets last year, its latest launch is at a slightly more egalitarian price range (rsp: £15.99/70cl).
The rum itself is made with golden rum which is mellowed in charred American oak for "a hint of smokiness" before being blended with "natural flavours and spices".
"We're confident Bacardi Spiced will satisfy the taste buds of long-time spiced rum drinkers as well as converting some new fans with its unique combination of spices and flavours," said Bacardi brand director for Europe Tine Van Nevel.
It rolled out into Tesco this month but will see a wider retail release from April.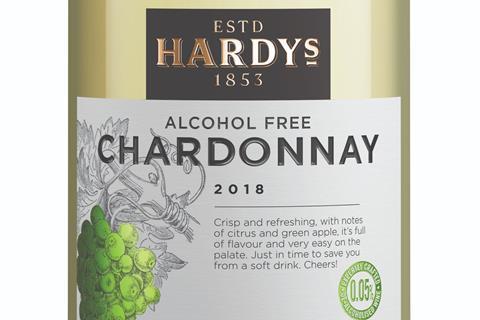 Hardys Alcohol Free Chardonnay
Accolade Wines has taken the UK's biggest wine brand into the booming alcohol-free sector. This launch, revealed to be in the works by The Grocer back in October, hits Tesco, Morrisons, Ocado and Matthew Clark in the on-trade from 1 April (rsp: £5 to £7/750ml).
It's made with the same grapes that go into Hardys Chardonnay, with the alcohol being removed through vacuum distillation, compared to the dilution method which many players in the category use.
The launch "offers important wine cues, such as grape style and flavour notes, and strong consumer confidence in the Hardys brand will help to drive purchase on occasions when consumers might be seeking an alternative to alcohol".
The number of no and low-alcohol drinks to hit the market over the past year is nothing short of staggering – sales across the no and low category are up 19% year on year [Nielsen 52 w/e 27 January 2019].
Nearly every major beer brand now has a more virtuous counterpart, and the retailers' have all dedicated serious shelf space to these products – which arguably speaks as much to their margins and lack of duty burden as it does the consumer trend.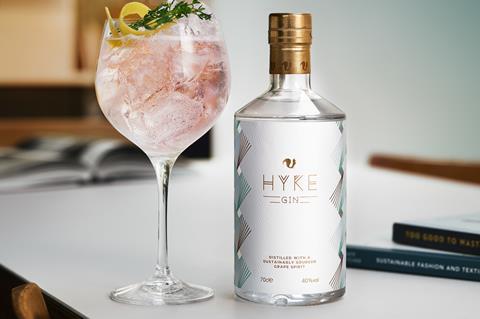 Hyke Gin
Hyke Gin is the latest launch from Sussex distillery Foxhole. The 40% abv spirit is distilled with internationally-sourced surplus grapes and contains a blend of 'African-inspired' botanicals such as coriander, myrrh and rooibos. It hits 300 Tesco stores exclusively this week (rsp: £24/50cl).
Tesco claims it will help support its target to halve food waste by 2030.
Foxhole Spirits co-founder James Oag-Cooper said: "We knew there was something special that could and 'should' be done with this quality by-product, so we applied our expertise and craftsmanship to the challenge. The result is a totally unique product which tastes exceptionally delicious, is beautifully presented, sustainably conscious and yet still affordable."
It comes as some gin makers are hitting out at the number of new launches playing fast and loose with the category in their recipes and marketing, taking aim at the recent influx of lower-abv 'gin liqueurs' to hit the mults.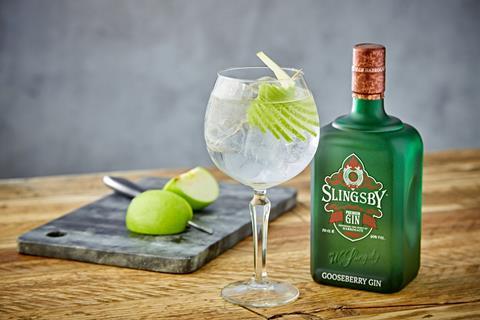 Gooseberry Gin
More gin news: Yorkshire-based Slingsby has added a new gooseberry-flavoured spirit "inspired by the fruity tones of a crisp New Zealand sauvignon".
The flavour certainly stands out on shelf, considering much of the recent explosion in flavoured gins has been in sweeter, more berry-forward (read: pink) gins. This one is outlandishly green.
It's made with the same mix of botanicals and base of the brand's Rhubarb Gin, but with the addition of locally-sourced Yorkshire gooseberries which "deliver an unmissable tangy sharpness", according to the brand, with "a sweet and fruity finish".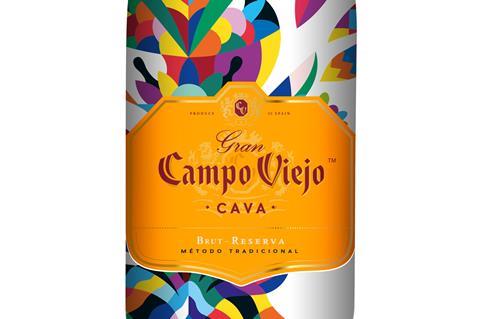 Campo Viejo 'Art Series'
Pernod Ricard has teamed up with "innovative street artists" to launch a new 'art series' label and pack for its 2014 Reserva Rioja and Campo Cava.
The pack marks the sixth time the Campo brand has done such a collaboration: this year's pack is based on a design by 'urban contemporary artists' Remed and 3TTMan. It has rolled for a limited time into Morrisons (rsp: £12.95/750ml).
It comes as national news reports last week claimed Pernod was putting its wine division – which also includes Jacob's Creek and Brancott Estate – up for sale, which would take the French spirits giant out of wine for good.


Daniel is The Grocer's food and drink editor and is responsible for our product coverage across all fmcg categories.

Daniel has written about food and drink for the majority of his career: prior to joining The Grocer in 2017, he covered food and drink news on pub industry title The Morning Advertiser, and wrote features for VICE magazine.

Follow Daniel on Twitter: @WoolfsonExists