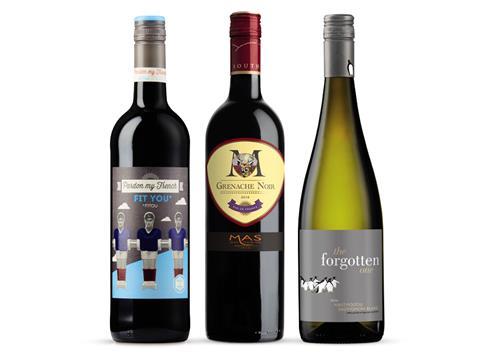 Aldi hopes to revive the fortunes of French wine with the launch of an 11-strong collection for under £7 – to challenge notions France's tipples are "expensive and intimidating".
The "easy-to-understand" French Discoveries is available now in three sub-ranges, Pardon My French, The Forgotten One and Jean Claude Mas, with prices ranging from £4.99 to £6.99.
Described as an assortment of easy-drinking wines, each of the four Pardon My French options carries a 'French can be fun' strapline, while the names are puns on region of origin, including Men Are From Mars (Minervois) and Fit You (Fitou). The red, white and blue labelling is designed to appeal to shoppers who would usually pick up a New World wine rather than a bottle from France.
The Forgotten One duo heroes the lesser known winemaking appellations of Haut Poitou and Cahors with a sauvignon blanc and a malbec.
The collection's final five tipples have been produced by winemaker Jean Claude Mas, a long-time Aldi supplier. Hailing from Languedoc, a traditional province that has been producing wine for more than 2,000 years, the lineup includes organic variants French Classic Organic Vin Blanc 2016 and French Estate Organic Sud de France 2016.
The collection was aimed at reversing a general decline in sales of still wine from France, said Aldi. Britain's drinkers are increasingly choosing new world options – and value sales of French tipples fell 3.9% last year as drinkers turned to reds and whites from the likes of Argentina [IRI 52 w/e 28 January 2017].
France produced "some of the best wines in the world", said Tony Baines, joint MD of corporate buying at Aldi. The new "uncomplicated, exciting and accessible" collection would allow "as many people as possible" to discover French vintages.
He added: "We pride ourselves on providing shoppers with great quality products at everyday low prices, and we really believe these wines have a certain je ne sais quoi."