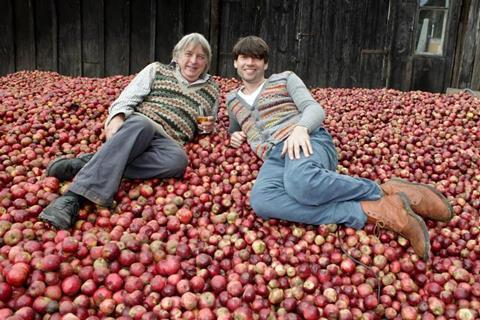 Blur bassist and acclaimed cheesemaker Alex James is moving into alcohol with his own cider and cask-strength "rocket fuel" apple and pear brandies, The Grocer can exclusively reveal.
James has teamed up with Westons Cider to create a "sparkling but not too fizzy" medium dry, called Britpop, which he said would come in at around 5.5% abv. James first trademarked the name Brit Pop in 2013, fuelling speculation the star planned to move into booze, but no drinks range ever materialised.
James had previously planned to create a sparkling wine, but "the more I looked into it, the more obvious it became that it should be a cider", he told The Grocer, confirming the move. "There has been a great British food rennaisance since I moved to the farm but we're not really shouting enough about the apples and pears in Britain."
It will initially be kegged for his Big Feastival music festival, which will be held at his Somerset farm in August, ahead of potential further distribution, with James using the festival as "a really great chance to test the market".
He has also partnered with The Somerset Cider Brandy Company to create two eaux de vie (fruit brandies) called Cool Britannia – one apple and one pear, which will be bottled as cask strength.
"I really wanted to do a digestif," he said. "It's really, really strong. Distilled apple and pear spirits are really quite hard to find, but I've known the Temperleys [owners of The Somerset Cider Brandy Company] for a long time. They do it all properly.
"Nothing says 'terroir' like a tree. Apples are just the best way of getting sugar out of the ground. It's the equivalent of the best-quality grapes."
He added: "It probably takes a maniac like me to think there's a market for this super-strength alcohol but actually I think it's a really brilliant vodka substitute for yummy mummies. It's completely pure, straight out of the ground, distilled apple wonderfulness."
James said other musicians' forays into booze had typically "been like selling t-shirts. Bands can't sell records any more so they just stick the logo on anything. Just look at what Iron Maiden are doing – sh*t band making sh*t beer. Who wants to drink f**king rock band beer?"
He also revealed plans for an upcoming revamp of his UK cheese range, featuring a new "really versatile" goats cheese, a sheeps cheese, an "incredibly creamy" brie and a "smelly" cheese from Nettlebed Creamery, which he planned to call 'Grunge'.