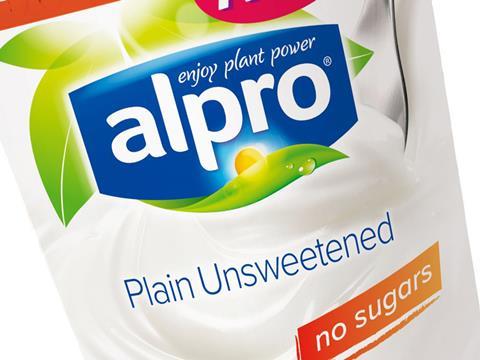 Alpro has expanded its range of soya-based alternatives to yoghurt with the launch of a 'no sugars' variant.

The brand said its plain unsweetened no sugars big pot was a first for the yoghurt alternative category, and marked a "significant development" for plant-based food and drink. It will go on sale in large-format Sainsbury's stores on 1 October (rsp: £1.50/500g).

"The good news about plant-based is that we don't have to 'add in' or 'take away' to achieve great-tasting products that are low in sugars," said Alpro UK & Ireland head of marketing Vicky Upton.

"All of our plant-based products naturally stack up well when it comes to sugars, and all of our existing plain big pot variants are already low in sugars," she added.

"However, consumer perception of sugars is a challenge across all areas of the food industry. That's exactly why we've been working hard to reduce sugars even further across our total product portfolio, despite already having strong credentials in this area."

The brand has achieved a 12% reduction in sugars during the past decade and is targeting a further 12.5% reduction by 2018.