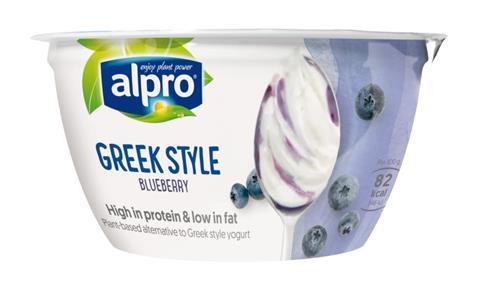 Alpro is to launch its first range of Greek-style yoghurt alternatives as part of its "biggest-ever" year of NPD and marketing.

The soya-based range will go on sale nationally next week with a 400g plain pot (rsp: £1.50) and four separate 150g pots in strawberry & raspberry, passion fruit, blueberry and mango flavours (rsp: 95p each). It marked the start of Alpro's most ambitious programme of NPD across grocery, out of home and on the go, the brand said.

It will be supported by a multimillion-pound push over the year, which will see it give away one million samples.
The brand was also planning a round of sugar reduction across its core yoghurt alternative range during the coming months.

Meanwhile, its second annual Plant Power Day on 7 March was described as a "celebration of all plant-based food and drink" and would see Alpro team up with other like-minded brands and retailers for a series of activities.

It comes as research for Alpro's second annual Plant-based Barometer revealed 23.9% of shoppers were 'definitely' planning to add more plant-based products to their diet, while 37.6% said they were strongly considering consuming more plant-based food and drink.

"It's essential we fuel this growing demand with exciting new plant-based products shoppers can choose throughout the day, as well as continuing to push the boundaries around areas like sugar on our existing range," said Alpro UK & Ireland marketing director David Jiscoot.