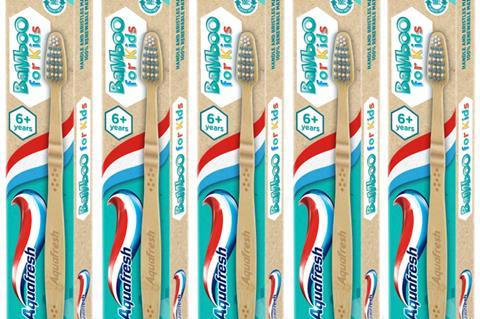 Personal care giant GSK has added Bamboo for Kids, the first sustainable Aquafresh toothbrush for children.
Aimed at youngsters aged six and above, the new dental device comprised a handle made from sustainably sourced bamboo and round-ended bristles made from "100% renewable materials" said the supplier.
The toothbrush (rsp: £4) would tap "the consumer shift towards more environmentally friendly products" it added.
Available in two colours of interdental bristles – green and pink – Bamboo for Kids comes in plastic-free packaging. It will roll into Waitrose from 20 April, with further listings expected in early summer.
The NPD follows a GSK survey that "found over 90% of respondents are concerned about the amount of plastic used in their daily lives" said Aquafresh senior brand manager Hannah Rogers.
"We wanted to embody the sustainable approach across every aspect possible, including the packaging and bristles, to help shoppers reduce their plastic use, while ensuring the product lives up to our standards as experts of kids' oral health."
Bamboo for Kids is the latest in a raft of sustainable toothbrushes in retail. Colgate launched a bamboo device in October 2019 followed by a kids' version at the start of 2021. Wisdom and smaller brands such as Humble Brush also offer similar lines.
Aquafresh's latest innovation comes after the brand's February launch of three fruit-flavoured toothpastes. Aquafresh Splash Strawberry & Mint is aimed at children, while the Aquafresh Senses duo of Energising Grapefruit, Lemon & Mint and Refreshing Watermelon, Cucumber & Mint are meant for adults.