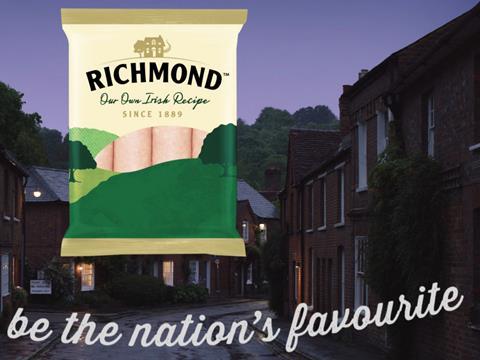 There's no stopping the chicken sausage trend.
What started as a niche product aimed at dieters and gym goers has made steady inroads into the mainstream in recent months, with a slew of brands – including Debbie & Andrew's and Heck – offering their own versions.
Now even mainstream sausage juggernaut Richmond is getting in on the act. It's launched a line of chilled chicken sausages in supermarkets nationwide.
It comes after the brand abandoned a move into chicken sausages three years ago. So what does Richmond's change of heart tell us about consumer preferences – and the likely future direction of the chicken sausage trend?
As we reported recently, chicken leapfrogged sausages last year to take second place in the barbecue meat hierarchy – consumers perceive it as healthier and more versatile than red meat.
This comes after a WHO report in 2015 linked processed meats, including sausages, to certain types of cancer. The sausages covered in the report actually did not include British-style bangers, but that didn't stop sausage sales from taking a hit.
So it's little wonder suppliers are launching new chicken alternatives in a bid to tempt health-conscious shoppers back to the category.
However, for Richmond, whose sales are down £1.8m year on year, the move into chicken sausages also comes with some challenges.
By its own admission, the market for chicken sausages has to date been led by premium products. That means premium brands – think Heck et al – but also premium ingredients, with high meat content.
Richmond's new chicken sausages, on the other hand, contain just 52% chicken compared with the 85% claimed by the likes of Heck and Chickolatas. At the same time, the price isn't markedly lower than its premium rivals: an eight-pack, weighing 400g, comes with an rsp of £2.50 compared with £2.50-£3.15 for 10 (340g) of Heck's chicken sausages.
Despite this, the brand is "quietly optimistic" about its move into leaner proteins, arguing it keeps Richmond's "same delicious taste" while on-pack recipe inspiration and its trusted brand should tempt health-conscious shoppers.
It remains to be seen if that will be enough. If it's successful, however, Richmond's move could well mark a landmark moment for the wider sausage category, which is likely to prompt a flurry of further launches from big-name brands and own label.
If anything, it suggests the chicken sausage is not a flash in the pan. It's a trend that is here to stay – and set to keep on growing.