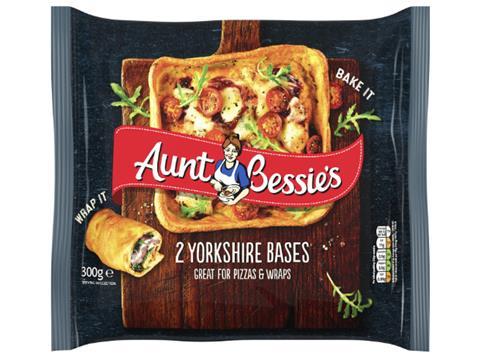 Aunt Bessie's is tapping the festive Yorkshire pudding wrap trend with a twin-pack of frozen Yorkshire Bases.
This week's rollout of the large square bases (rsp: £1.50/300g) comes as "Yorkshire puddings are as popular as ever, with many consumers creating innovative recipes to enjoy the product's recognisable taste and texture in modern ways" according to Aunt Bessie's.
It follows a number of recent launches including Lidl's Festive Yorkshire Pudding Wrap filled with turkey, sausage, gammon, pork and stuffing, and the Yorkshire Pudding Wrap sandwich by Morrisons, which counts turkey, bacon and cranberry chutney among its contents. Earlier this year, Morrisons unveiled two variants of Yorkshire pudding pizza.
Aunt Bessie's hoped to "inspire our shoppers to create new and innovative recipes, using the bases as burritos, wraps, pizzas and more" said marketing director Hannah Haas.
It is being joined in freezers by three more new products from the Nomad Foods-owned brand. Chantenay Carrots & Parsnips (rsp: £1.99/400g), seasoned with olive oil and mixed herbs, are aimed at consumers "seeking out more premium offerings to celebrate the festive season".
Meanwhile two potato lines, Lightly Seasoned Wedges (rsp: £1/600g & £1.99/750g) and French Fries (rsp: £1/750g & £2.50/1.4kg), made their grocery debut last week.
The quartet of new products came "at an exciting time for the business" said Haas.
Last month, Aunt Bessie's dropped the Margaret and Mabel characters from its TV adverts after nine years, replacing them with a £5m push called 'Bring Out the Bessie in You' to focus on roast dinners – four months after being acquired by Nomad for £210m.