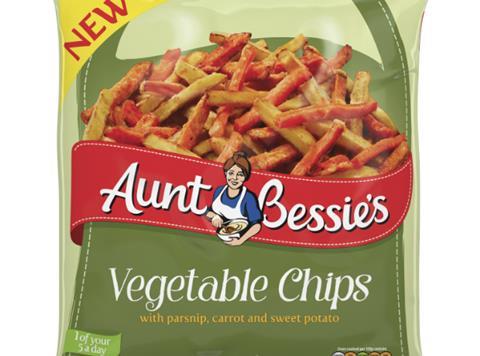 William Jackson Food Group is targeting carb-conscious Brits with the launch of a new Aunt Bessie's vegetable chips line.
The frozen chips are made from parsnips, carrot and sweet potato, and are due to go on sale in Waitrose and Tesco from 6 March, followed by Asda and Sainsbury's in May, and Morrisons in July (rsp: £2.49/500g pack).
Tesco sells an own-label ready-to-roast chilled veg chip SKU, made using carrots, beetroots and parsnips, while Mash Direct offers chilled carrot and parsnip fries.
However, Aunt Bessie's new product was a branded UK first for the frozen veg category, said marketing director Lorraine Rothwell, and had been launched in response to increased consumer demand for more veg and less carbohydrates in modern diets.
The veg was sourced from the UK when possible and dependent on availability, she added.
"We're always looking to develop something new for shoppers to try, and our research showed a real opportunity for branded frozen vegetable chips – in fact we're the first to bring frozen vegetable chips to the market," she added.
"We're seeing growth in the market for carb-alternatives such as spiralised veg and veg rice, and with a strong shopper base in chips we identified a great opportunity to combine root veg favourites and help shoppers reduce carbs."
The newcomer follows the launch of an Aunt Bessie's sweet potato chips SKU last spring. A portion of the brand's vegetable chips counts towards a consumer's five-a-day and can be baked from frozen in 20 minutes.