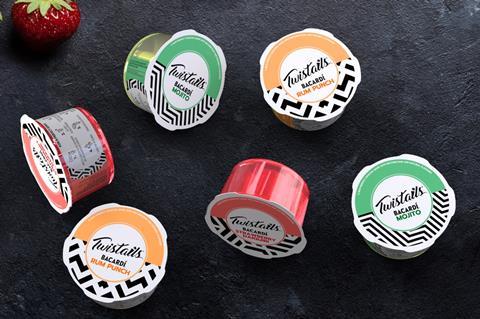 Bacardí has created a range of Nespresso-style cocktail pods for shoppers wanting to recreate the bar experience at home.
Called Twistails, the range has debuted with a trio of flavours with Bacardí rum – Daiquiri, Rum Punch and Mojito – which have launched exclusively into Amazon.
A starter pack, at £26.99, comprises six 120ml pods (38.1% to 43.7% abv) and specially made shaker and strainer. To make the cocktails, shoppers add water and ice to the shaker, attach the strainer, insert a pod and twist before shaking and pouring.
The pods used "an innovative dual chamber which delivers a fresh cocktail experience every time", said Bacardí. Finished cocktails would have an abv of between 9.5% to 10.9%, it added.
Refill packs of six pods will also be available (rsp: £22.99).
"With more and more people seeking convenience and home entertainment solutions, we asked ourselves how Bacardí could use its expertise as one of the world's top spirits companies to create a product that would address this gap," said Bacardí digital and e-commerce director Ankush Manchanda.
Bacardí isn't the only booze brand prioritising Amazon as the UK prepares to go into a second lockdown. Last month British Honey Co, for instance, launched a range of 'affordable luxury' spirits exclusively into the retailer at £24/70cl, claiming it was only through Amazon that it could acheive such a price.