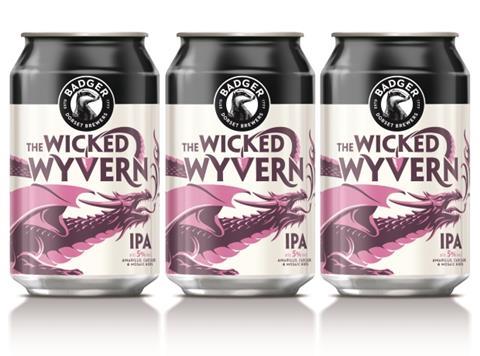 Recently-relaunched ale brand Badger has taken a stride into 'crafted' beer with its first canned IPA.

The 5% brew, called Wicked Wyvern, was an "accessible" take on the style with "flaring deep bronze colour and a citrus aroma of zesty grapefruit", said the brand, with "bitter hop character and a dry, hoppy finish".

It has rolled into Tesco nationwide (rsp: £6/6x330ml).

The brand had "identified a gap in the market for a premium, crafted beer which is also accessible in terms of taste profile and abv. The Wicked Wyvern responds to this gap in the market and we believe will open up the IPA category to a broader group of consumers who are looking to explore new flavours."

It draws its name from the mythological beast - similar to a dragon but with two legs instead of four - which is said to have "stalked Dorset for centuries". The pack was designed by agency Brand Opus.

If follows a major rebrand for Badger last month, which saw it gain a new identity, logo and marketing push as part of a £1.25m investment into its revitalisation.