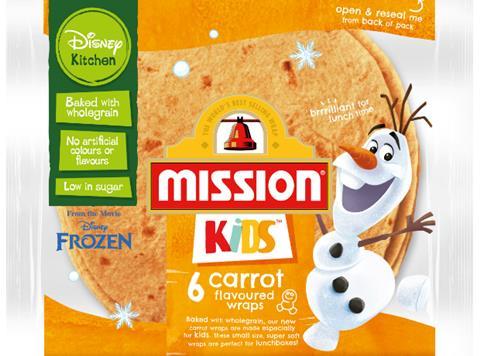 Bakery brand Mission has unveiled the first wraps for the Disney Kitchen portfolio of healthier grocery products. The five-strong new range includes variants flavoured with carrot, tomato ketchup and strawberry – a UK first, according to Mission.
Featuring characters from popular Disney animated movies, including The Incredibles and Frozen, the licensed wraps will roll out from late December with an rsp of £1.29 for a pack of six (187g). They meet Disney's European nutritional guidelines, which require wholegrain to be the main ingredient in bread, and set limits on sugar, salt and fat and portion sizes.
Made with natural flavours and no artificial flavours or colours, all variants are below 100kcal per 31g wrap (no more than 316 kcals per 100g).
"The healthy food options for kids aren't always fun, and the fun options aren't always healthy," said Louise Pike, marketing & innovation director at Mission. The Disney Kitchen wraps had been created "to help parents improve mealtimes with simple yet creative and nutritionally-balanced solutions".
They will join a burgeoning selection of Disney Kitchen grocery products for children – which kicked off in early 2018 with chilled ready meals followed by baked snacks for toddlers and pre-schoolers. Listed by grocers including Tesco, Asda and Ocado, the Disney Kitchen portfolio also includes the likes of smoothies and yoghurt.
In August, Symington's launched Disney Kitchen-licensed porridge pots and meal pots under its Ilumi free-from brand.