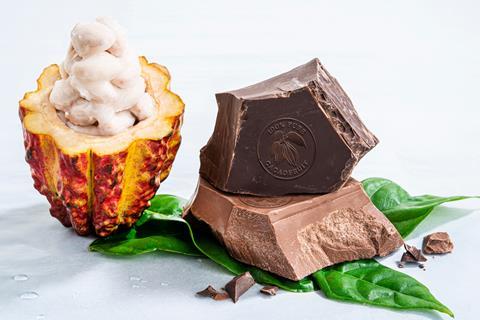 Barry Callebaut has hailed the "creation of a next-gen food & drink category" with the launch of chocolate made from 100% cacao fruit.
The Zurich-based chocolate giant has unveiled Cacaofruit Experience, a range of ingredients that reduce food waste by employing cacoa fruit's peel, pulp and juice, as well as the beans used in regular chocolate.
"Whereas normally 70% of the fruit is discarded as waste, Cacaofruit Experience literally unleashes the full power of the cacao fruit" Barry Callebaut said. The ingredients were "rich in nutrients such as fibres, protein and magnesium. At the same time, they are good for the planet and its people because the entire cacao fruit is utilised."
Mondelez's innovations hub, SnackFutures, will be the first supplier to use Cacaofruit Experience in a consumer product. Its new CaPao brand is piloting two snack products, Smoothie Ball and Jerky Strips, with selected retailers in Los Angeles.
Barry Callebaut has also added WholeFruit, a "fresh, fruity" variant of chocolate made from only cacoa fruit. It will be available from May 2020 as "punchy" WholeFruit Bold and "smooth, luscious" WholeFruit Velvety.
"Our goal in R&D is to develop innovations that are on trend, satisfy unmet consumer needs and also taste great," said Pablo Perversi, Barry Callebaut's chief innovation, sustainability & quality officer.
Following the Swiss company's 2017 launch of ruby chocolate, WholeFruit would "respond to the need of millennials and centennials for healthy indulgence" Perversi added.
It comes after Nestlé claimed a world first in July by inventing 70% cocoa chocolate made from nothing but the cacoa fruit.