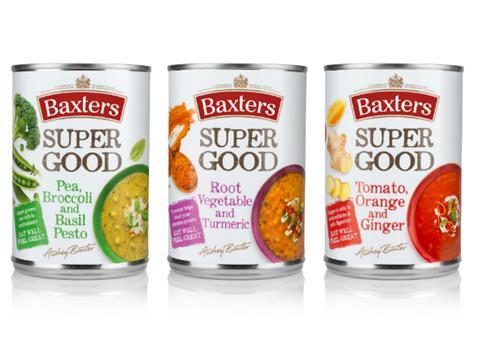 Baxters Food Group is set to roll out a range of healthier canned soups.
The new Super Good selection promises "the perfect balance of delicious flavours and 'great for you' ingredients". It six variants are Tomato, Orange & Ginger; Chicken, Broccoli & Rice; Chicken Noodle; Fiery Fish Bisque; Pea, Broccoli & Basil Pesto; and Root Vegetable & Turmeric.
The NPD came "in recognition of changing consumer demands, attitudes and tastes" said Cara Chambers, marketing director at Baxters. "With a focus on the importance of a healthy lifestyle, this soup range is built around key ingredients, which are promoted as having significant health benefits."
Alongside the launch of Super Good, Baxters has revamped its Hearty lineup with the addition of three variants – Carrot, Ginger and Quinoa, Moroccan Chicken Harira, and Spicy Green Lentil Dhal – and a new design that emphasises the soups' protein content.
The soups provided consumers with "big flavours, but also provide a protein boost, as well as contributing to a minimum of two of their 5 a day" Chambers said. "By sharpening up this message, we have ensured a clearer communication to the consumer via the labelling."
Rsp of both ranges is £1.49 for 400g. They will be supported by a winter push with particular focus on London, Manchester and the north east, targeting shoppers aged 45 and over.