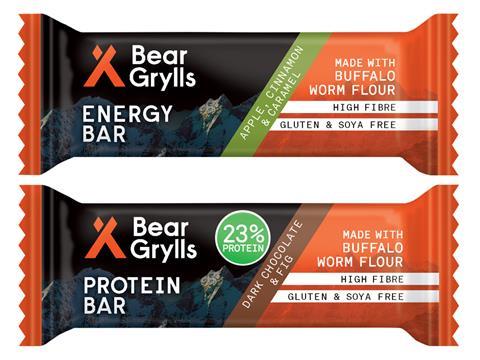 TV adventurer Bear Grylls has teamed up with novelties wholesaler Tobar to launch a range of insect powder snack bars - in a bid to bring alternative protein to the mainstream.

Four variants will go on sale later this year, initially at the Bear Grylls Adventure Park at Birmingham's NEC. Each is made from buffalo worms grown on European insect farms.

The range (rsp: £2/40g) comprises two protein bars - Fig & Dark Chocolate and Apricot, Chia & Cranberry - with up to 25% protein. Two energy bars containing as much as 48% sugar are intended for use pre-workout or as an energy boost in extreme sports, climbing and treking. The pair will be available in Orange & Dark Chocolate and Apple & Cinnamon variants.

Tobar has prior experience in the edible insects category, having developed products in the I'm A Celebrity Get Me Out Of Here Bush Grub range, including Salt & Vinegar Crickets and Mealworm Lollipops.

"Farming insects uses significantly less land and water, produces fewer greenhouse gasses and is a highly nutritious alternative to traditional protein production," said Tobar specialist product developer Gary Bartlett.

The wholesaler was "hugely excited to work with Bear Grylls to promote the benefits of buffalo worm powder and the health bar range to fans" he added.

Grylls hailed the launch as a "planet positive" move on his Instagram account, adding that "insects are among the leanest forms of protein out there".