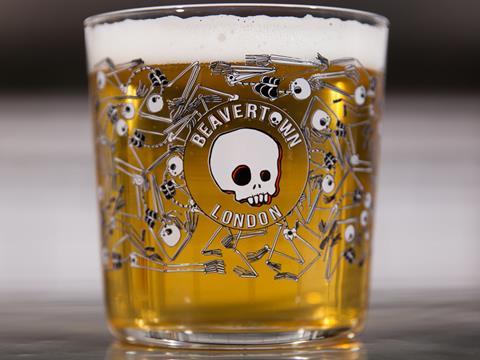 Craft brewery Beavertown has unveiled its first core lager, months after selling a 49% stake in the business to Heineken.
The 4.4% brew, called Beavo, has rolled out initially into the on-trade, with Beavertown eyeing an off-trade launch further down the line.
It marks the first time Beavertown, whose strong IPAs Gamma Ray, Neck Oil and Lupuloid brought it to prominence, has brewed the well-known beer style at scale.
Beavo was "something we've been working quietly on for two years now with various lager trials", said Beavertown brand and communications manager Sam Millard - including with a number of small batch brews under its Beavertown Says range of one-off releases.
"The classics are classics for a reason and with a style as classic and nuanced as lager, there is nowhere to hide," he added. "So while there are plenty of them out there, we wanted to make sure that when we came to the party with a full-time, core range lager, that the beer was going to be bang on the money."
Beavertown sold a 49% stake in its business to Heineken earlier this year in a £40m deal which is funding the construction of a new 11,761 sq ft brewery in Enfield, north London. The new facility, dubbed Beaverworld, will ramp up Beavertown's production capacity to 450,000hl and will create some 90 new jobs, growing to up to 200 over the next three to four years.
The brand is currently contract-brewing ­several of its core beers at Brouwerij De Brabandere in Belgium.