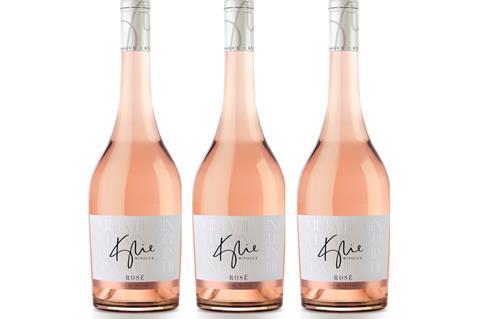 Benchmark Wines has partnered with pop star Kylie Minogue to launch her own wine brand.
Its first wine, Kylie Minogue Rosé (12.5% abv) is billed as being an elegant, bespoke blend made from carignan and cabernet sauvignon grapes sourced from the south coast of France.
It rolled exclusively into Tesco today (28 May), after two years of development (rsp: £9/750ml).
Benchmark Drinks MD Paul Schaafsma said the collaboration had been "a privilege", adding "Kylie's exquisite taste and refined palate made it a dream to develop this bespoke rosé blend".
Minogue added she had "a great passion for rosé" and was "truly enamoured by" the result of the collaboration.
"It's fresh, light and the perfect pink," she said.
London-based distributor Benchmark Drinks was founded by Schaafsma, former CEO of Accolade Wines, in January 2018.
The business is making its name with upmarket celebrity-endorsed wines, having gained the UK and Ireland rights to TV presenter Graham Norton's wine brand soon after launching, then going on to launch a range of Australian wines in partnership with cricketer Ian Botham.
Last year, it signed up to distribute wines from Fecovita, Argentina's largest wine producer, in the UK and Ireland. The deal saw Benchmark take responsibility for the supplier's bulk wine, and brands such as Bodega Estancia Mendoza.