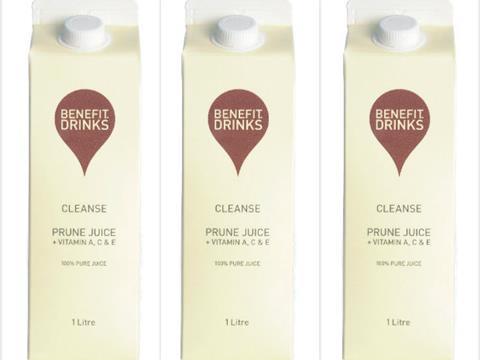 Health drinks brand Benefit has secured a Tesco listing for its new prune juice drink.
The product will begin its rollout across more than 900 Tescos from 11 November (rsp: £2.79/1 litre).
Benefit's prune juice is made with prunes sourced from the Agen region of Bordeaux blended with vitamins A, C and E to provide 100% of the recommended daily intakes in each carton.
The launch will be supported by social media activity, with the brand set to launch in more major retailers at the beginning of 2018.
"We will be the prominent prune juice on display and in distribution in Tesco, and in a large number of stores we will be the only prune juice available," said Gavin Cox, founder of Lovely Fodder, which owns the Benefit brand.
"We believe that this is due to our focus on taste with the added benefit of vitamin enrichment, which gives consumers added value."
"Consumers are seeking products that are healthy but still taste good. We aim to deliver a true benefit to consumers seeking lower calorie, low-fat, non-dairy indulgence in a guilt-free and convenient way," he added.
The full Benefit range includes almond milk alternative fruit smoothies and other vitamin-enriched juice drinks available in Waitrose.