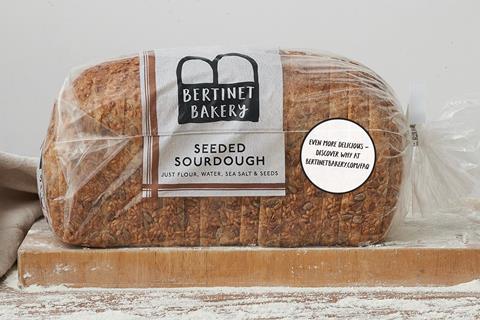 Bertinet Bakery is claiming a market first with the relaunch of its sliced sourdough loaves – promising longer-life artisanal bread without preservatives.
The six-strong range has been reformulated to offer a softer, "sandwich friendly" texture, which stayed "fresher for longer without additives or shelf-life-enhancing preservatives" claimed the brand.
It had employed "revolutionary new baking methods" to craft the revamped lineup using only flour, water, sea salt, malted wheat, sunflower seeds and golden linseed.
The loaves were aimed at providing "the nutritional, gut-friendly and authentic foodie credentials of sourdough to the everyday mainstream bread consumer" Bertinet added. They were "all-natural bread with a more accessible, softer eat".
The new-style Seeded variant (rsps: £3.95/1.1kg & £2.25/550g) is set to roll out first across Waitrose, Ocado and Milk & More, followed by White and Malted Wheat (rsps: £3.50/1kg & £1.95/500g).
Bertinet's ambition was "to give bread a good name, and this launch is an exciting landmark for the category" said MD Dean Arbel.
"Our sourdough supports a naturally improved gut health microbiome, which results in a better digestive health. Consumers are much more educated about bread now, and there is a stronger appreciation for provenance, baking methods, quality of ingredients."
The reformulated loaves come after Oxford supplier Modern Baker last month unveiled what it claimed was the world's first 'smart loaf' – a hi-tech bread that supports normal immune function while providing fewer calories than traditional bread.
The 800g seeded Superloaf (rsp: £2.50) contains 208kcals per 100g – about 23% fewer calories than standard seeded bread – while being "designed to optimise your gut health".