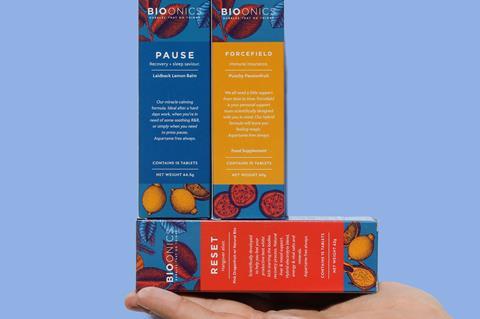 Startup suppplement brand BioOnics has made its UK debut with a trio of tablets it claims will "create a new category".
The brand, which claims to offer "specific products for specific needs" rather than "generic formulas", has made its UK retail debut, launching a trio of 'functional' SKUs into Sainsbury's this week, called Reset, Pause and Forcefield (rsp: £7.99/15 tablets).
Reset was a "hybrid vitamin and electrolyte blend", designed to offer "natural mood and liver support", while Forcefield contained "an armada of vitamins and botanical goodness" designed to boose the immune system, said the brand.
Meanwhile, Pause was designed to "maximise sleep quality", containing ingredients such as chamomile, lemon balm and L-theanine amino acids.
The trio will also launch into Harvey Nichols over the coming weeks.
"I used to work in an office where people would take a generic multivitamin for a wide range of issues, to focus better, or even for a hangover or to help them sleep - all in effervescent form," said BioOnics founder Ben Hopkins. "We want to do something very different. We use botanicals that are sourced from around the world."
"We are trying to create a new category of functional effervescent tablets. We want to do what craft beer did to beer, what Fever-Tree did to tonic water."
The brand has five new formulas in development, and two new products "in the final stages of production". It also plans to roll out plastic-free packaging in 2020.