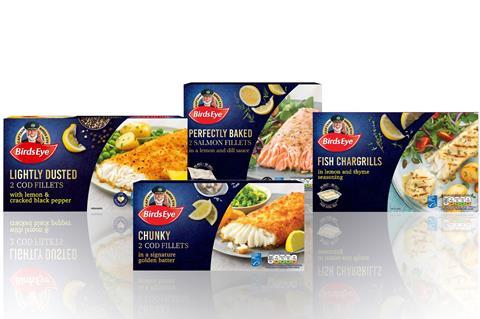 Birds Eye has ditched its premium Inspirations range, opting to bring its posh offer under a core fish lineup.
Inspirations SKUs would no longer feature the sub-brand's logo or black packaging, the frozen food giant said, and would instead transition to a new look under the Captain Birds Eye banner over the coming weeks. However, Birds Eye stressed the Inspirations range would live on, with a small number of premium chicken and beef products.
The move "had not been taken lightly" said Birds Eye's UK general marketing manager for fish, Rebecca Nascimento. But the supplier had decided to capitalise on the success of the sultry new Captain Birds Eye, in a move it predicted would add £23.3m in sales to the Captain's range.
"With our new frontman in place, it's now the right time for us to bring the Inspirations range into the Captain's fold – elevating frozen fish through a new premium positioning and providing families nationwide with real food, simply made but with an inspired twist," said Nascimento.
It comes after the struggling Inspirations range dropped double digits in value and volume sales in last year's Grocer Top Products survey in association with Nielsen. The sales slump followed a packaging revamp in late 2017, backed by a multimillion-pound year-long campaign designed to revive the sub-brand's fortunes.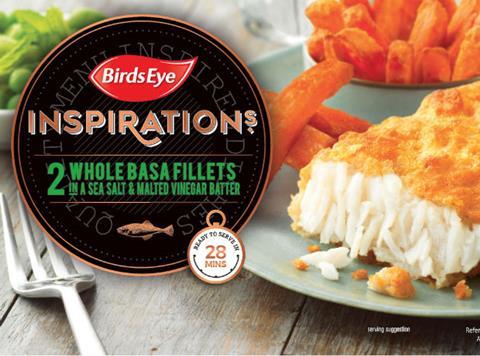 However, Inspirations' loss of 17.7% in value (equivalent to £5.4m), and a 23.1% drop in volume for the year to September 2018 looks to have sounded the death knell for the brand. It had suffered three years of ailing sales, with value falling from £34m in 2015 to just shy of £25m in 2018.
During the same three-year period, the core Birds Eye range grew steadily from £118m to £136m, adding £5.8m in 2018 alone.
"We're confident that by bringing our premium range on board, we will attract new shoppers to the brand and frozen fish category," said Nascimento.
"This was rubberstamped when we put the premium Captain packaging into testing. New shoppers expressed greater appeal and existing shoppers told us that findability and standout were significantly higher."
Birds Eye said it would look to bring more variants to the range, while it would benefit from a £7m advertising push for the wider brand.