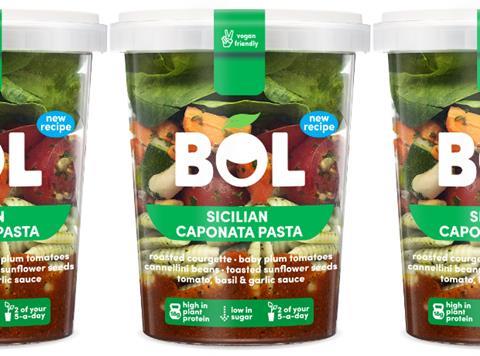 Premium pot meals brand Bol Foods has expanded its lineup with four variants including its first pasta dish.
Sicilian Caponata Pasta (rsp: £3) will land in Sainsbury's from 31 October and in Tesco from 8 November. Bol said it had "spent months creating this delicious plant-based recipe" based on a "Sicilian classic". It is a combination of roasted courgette, cannellini beans, roast baby plum tomatoes and toasted sunflower seeds, with a dressing of tomato, basil & garlic sauce, capers and sweet lemon oil.
It is being preceded in the mults by two other new lines: Slow Roasted Tomato & Basil Protein Boosting Super Soup, and Carrot, Butternut & Ginger Immune Boosting Super Soup (rsp: £2.75) are rolling out today to Tesco and Sainsbury's respectively.
The chilled quartet of plant-based NPD will be completed from 8 November, when Thai Red Curry (rsp: £3) becomes available in Tesco.
The "globally inspired" products follow Bol's move in the summer to take its portfolio vegan, removing dairy from all its pot meals a year after it dropped meat and fish in June 2017 and relaunched as a vegetarian brand.