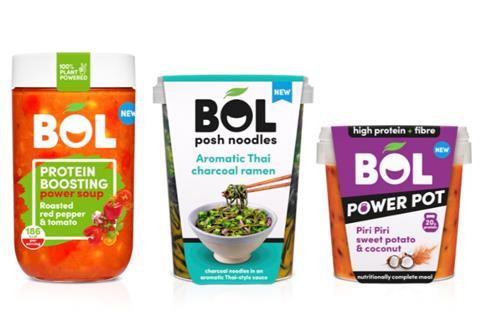 Plant-based brand Bol has unveiled a swathe of NPD and switched up the recipes of much of its range.
The brand has added an entirely new range of Posh Noodles it is billing as "the ideal healthy solution" for on-the-go noodle shoppers, comprising four SKUs: Korean Sweet Chilli Ramen, Aromatic Thai Charcoal Ramen, Sweet & Sticky Teriyaki Udon and Creamy Malaysian Laksa Ramen (rsp: £3/360g).
It has also created a quartet of Power Pots – nutritionally complete meals containing two of shoppers' 5 a day. They are: Mexican Black Bean Chilli, Piri Piri Dal Sweet Potato & Coconut, Spanish Smoky Butter Bean Stew and Creamy Coconut Turmeric Daal (rsp: £3/450g).
A new Buffalo Cauli Wings SKU has joined its range of oven-cookable dishes. The 'wings' are pre-marinated in a spicy buffalo sauce and coated with a polenta crumbe (rsp: £3.50).
The noodles and Power Pots have rolled into Tesco and Sainsbury's, while the Cauli Wings have rolled into Tesco alone.
Its Power Soups, meanwhile, have had their recipes switched up and moved into new jars. Its 2020 launch Power Shakes range has also been reformulated.
Bol marketing director Jeremy Gibson said the Power Soups range had been changed "to ensure they have greater levels of protein, whilst also being immunity and energy boosting".
"We also wanted to develop new packaging, so have created a sleeker, more convenient jar that people can eat directly from, or save half for later," he added.
It had been "been a challenging year for everyone, but we are proud to have recovered well through strong innovation launches and growth in our core distribution, and can now be found in 20% more fridges than ever before", said Bol founder Paul Brown.
The NPD and recipe switch-up will be backed by a campaign centred around "how all protein comes from plants", with the brand hoping to tap "the 66% of Brits who have moved towards an increasingly plant-based diet in the past year, whether the most passionate vegan or those just interested in trying out a meat-free meal".