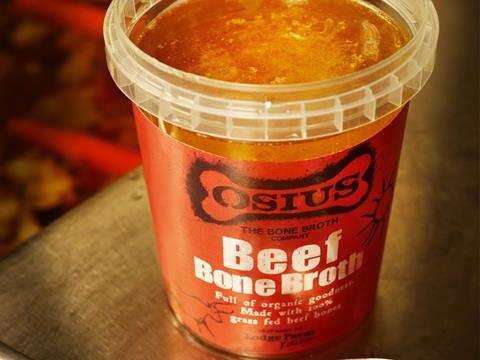 Soup supplier Lodge Farm Kitchen is hoping to tap recent media hype around bone broth with retail products including a drinking format.

The Osius Bone Broth Company brand will comprise two organic variants - chicken and a '100% pasture fed' beef bone broth.

Both will roll into independent retailers from Easter in small pots ready to heat and drink from, alongside two larger formats to be kept in the fridge and used for drinking neat or as a cooking ingredient.

Bone broth, which has a longer cooking time than other broths and stock and is claimed to have health benefits such as preventing illnesses and curing joint pain, has recently garnered media attention. The Daily Mail this week reported models at New York Fashion Week were drinking the broth.

Final packaging, sizes and prices for The Osius Bone Broth Company products would be decided in the coming weeks but rsps would range from £3.25 to £10.45, said company director Louisa Stout. The products, which are simmered for 24 hours with fresh organic herbs, seaweed and vegetables, with a little cider to help extract nutrients from the bones, would plug a gap for a bone broth retail range in the UK, claimed Stout.

"A few brands have been launched in the States, but we believe we are the first to launch a commercially produced brand here," she said. "Bone broth is as old as the hills, but with our increasingly frenetic lifestyles, we no longer have the time to make our own," she added.