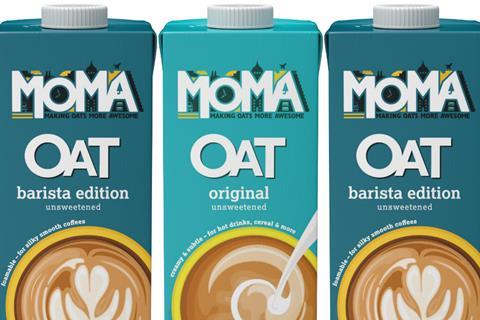 Breakfast maker Moma Foods is to take on the likes of Alpro and Innocent with its first milk alternative lineup.
The south London brand is preparing to roll out two oat milk variants specially created for hot drinks.
The result of two years' work, Original (rsp: £1.50) and Barista Edition (rsp: £1.80) are both unsweetened and packed in a one-litre carton. They are formulated to complement tea and coffee – "unlike many plant-based milks that split when added to hot drinks" according to Moma.
Barista Edition was also designed to be "foamable… to work in every coffee creation" the brand added. "We tested dozens of recipes in order to get that balance right, and we're proud to have finally cracked it."
Moma Oat's launch in November will mark Moma's first foray beyond its breakfast portfolio, which comprises porridge, bircher muesli and granola. It previously included a selection of smoothies made with oats, fruit and yoghurt.
"We're all about oats, not just breakfast," said the brand's marketing manager Josi Robson. "There are a lot of opportunities across different categories and occasions."
With the rise in free-from and plant-based diets, oat milk "felt like the right opportunity" she added.