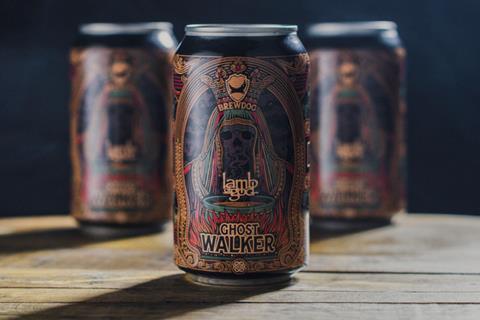 BrewDog has teamed up with US heavy metal band Lamb of God to create a new non-alcoholic beer.
Named Ghost Walker after the band's song 'Ghost Walking', the 0.5% brew is billed as being "hop-forward" with "tropical aromas" and "grassy, pine nots, all sitting on a solid malt baseline".
The band's vocalist, Randy Blythe, wrote the song "as he started his journey toward an alcohol-free lifestyle", and first became aware of BrewDog after being "blown away" by its Nanny State 0.5% abv ale.
"Countless bands have done beer collaborations, but we are the world's first non-alcoholic one," said Blythe. "In my not-so-humble opinion, this is the best nonalcoholic beer ever made, PERIOD. It was conceived, designed and first tasted while on tour – music drove it into existence.
"Right now is a strange time for everyone, but we're stoked to provide a non-alcoholic option for those who want to have a brew while cranking some tunes safely at home."
The brew is already available in the US and will roll out in the UK through BrewDog's online shop over the coming weeks.
BrewDog CEO James Watt called it the brand's "most epic" collaboration to date, adding the brand had "always been focused on making other people as passionate about craft beer as we are, and that includes people who, like Randy, don't want alcohol in their beer."
William Reed – the publisher of The Grocer – has launched an exhibition exclusively for the low and non-alcoholic drinks sector. For more information visit low2nobev.com