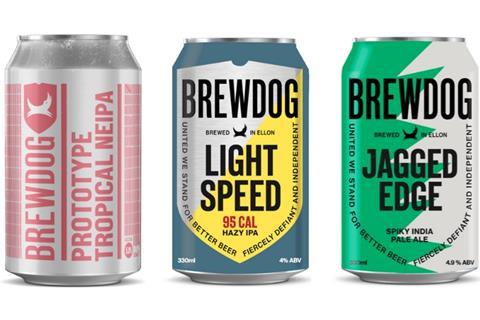 BrewDog is "fast-tracking" its NPD plans for the coming year to help fight off damage from the coronavirus pandemic.

The craft beer pioneer revealed eight prototype brews online this week. It plans to 'crowdsource' the decision on which four join its range, claiming it does not have the capacity to add all eight.

They include a 95-calorie, 4% abv Light Speed session IPA; Fake Empire, which would be BrewDog's first sour beer to be developed in its own brewery rather than its standalone Overworks facility; Mouse Mallow, a 7.5% abv pastry stout infused with marshmallows, cacao, bourbon, coffee beans and walnuts; and Triple Hazy, a 9.5% abv New England-style IPA.

It is asking shoppers to give their input with the hashtag #BrewDogBeerBattle on its channels this week.

It comes just weeks after it launched a duo of hard seltzers, and revealed it was "fighting to survive and protect as many jobs as we can".

BrewDog, like many beer businesses, took a major hit with the closure of the on-trade - it owns a massive estate of bars across the UK - placing many of its on-trade staff on furlough as the pandemic took hold. It has made major changes to its business over past months.

"We lost lots of our revenue due to Covid-19 and we are now selling much more of our beer through two channels: our online store and the off-trade," said BrewDog CEO James Watt. "Normally our innovation pipeline involves keg-only beers for our bars but obviously this cannot happen at the moment.

"We want to ensure that while we are operating through limited channels we are still offering consumers and customers a great choice."

Both Watt and co-founder Martin Dickie declined to take a salary for the 2020 financial year, and other senior staff have taken pay cuts.