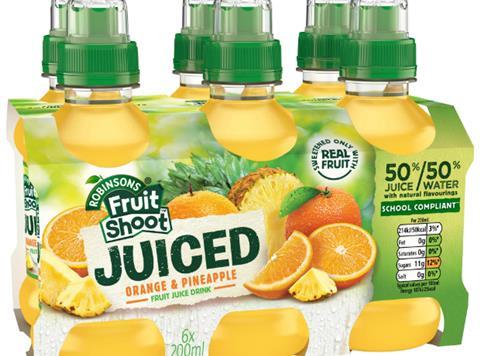 Britvic has unveiled Juiced, an extension to its Robinsons Fruit Shoot range, supported by a £3.5m media spend.
The school-approved drinks – rolling out in late February – are a 50/50 blend of fruit juice and water in Apple & Pear, Strawberry & Raspberry and Orange & Pineapple variants sweetened only with real fruit.
Sugar content is around 5.6g per 100ml – markedly higher than Fruit Shoot's low-sugar core and zero-sugar Hydro lineups, but about 28% lower than its My-5 trio.
Juiced will be available in a multipack of six 200ml bottles with a transparent design to allow shoppers to see the liquid.
The new range will be part of the returning 'It's My Thing' campaign, which made its debut a year ago to celebrate children doing what they are passionate about.
Kicking off at the end of March, the new £3.5m push would focus on "inspiring kids' adventurous sides and supporting their development both physically and emotionally" said Britvic. It will feature drinks from the wider Fruit Shoot portfolio, which has given its core range a fresh design in a semi-translucent bottle with 'made with real fruit' and 'no added sugar' messaging.
Marketing activity will include TV advertising and brand partnerships with Netmums and Public Health England's Change4Life campaign.
Fruit Shoot "led the kids segment" in soft drinks, said Kevin McNair, Britvic GB marketing director. The brand "inspires kids, is trusted by parents and has a product for every occasion" he added.