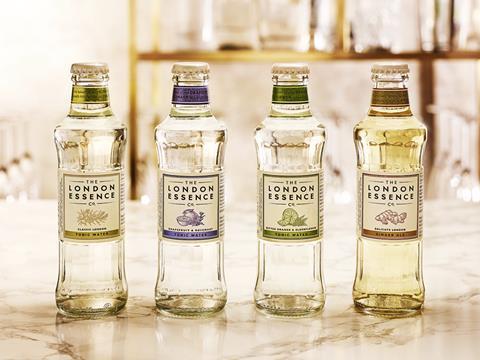 Britvic incubator company WiseHead Productions has finally unveiled the details of The London Essence Co mixers range.

The premium four-strong tonic collection, of which The Grocer broke the news in July, is available now from Harvey Nichols and Fortnum & Mason in Classic London, Grapefruit & Rosemary, Bitter Orange & Elderflower and Delicate Ginger Ale (rsp: £1.50). Each drink contains 20 calories per 100ml and 4g of sugar.

Positioned as an upmarket alternative to standard tonics, the supplier is seeking a piece of the action in the fast-growing premium mixers category, created and dominated by Fever-Tree.

Made with ingredients "carefully sourced" from around the world, the quartet had been developed to "exceed expectations" within the premium mixers category, said WiseHead Productions co-founder Ounal Bailey.

Britvic, which revamped its entire lineup of smaller format tonics and juices in October as part of its plans to disrupt the premium mixers category, officially unveiled WiseHead Productions in June with the aim of growing the adult soft drinks sector and taking it into a new category of 'zero proof' alcohol alternatives. The first NPD from the incubator was the lightly sparkling Thomas & Evans No. 1.