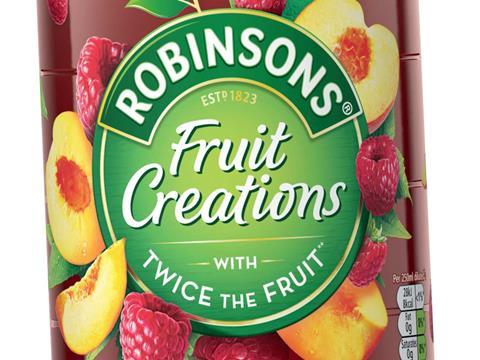 Britvic is boosting its Robinsons squash portfolio with 12 low-sugar SKUs across two new ranges – designed to attract an adult audience and premiumise the dilutes category.
Set to land on shelf from 5 November backed by a £3m spend, the Fruit Creations and Cordials lineups fall below the threshold of next April's sugar levy of 5g per 100ml (after dilution).
Fruit Creations contained twice the fruit of the core Robinsons drinks and was "perfect for pairing with food" said the brand. Its nine variants include Zesty Orange & Mango; Rich Pear, Blackcurrant & Cherry with Barley, and Delicious Peach & Raspberry (rsp: £1.99/one litre). They are sweetened with fruit sugar and artificial sweeteners.
Cordials comprises three lines in a 500ml glass bottle (rsp: £2.49) – packaging that was "a really good signal of premium quality" said Kevin McNair, GB marketing director for Britvic.
Pressed Pear & Elderflower; Raspberry, Rhubarb & Orange Blossom; and Crushed Lime & Mint variants – sweetened by fruit sugar and stevia – offered a "richer flavour experience" than standard dilutes, he added. They would add value to the squash category in which posh brands had "probably not done a good enough job at getting people to buy in".
Both Cordials and Fruit Creations were aimed at older families and adults looking for a "more sophisticated drink in the week or at the weekends with dinner" McNair said. "We're trying to matter to more people. The current squash category is very much catered to younger families."