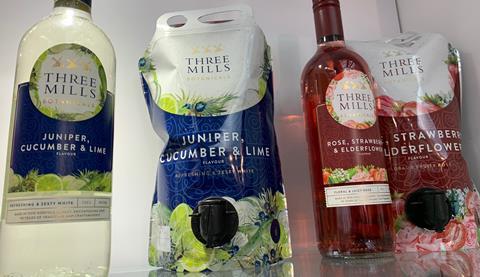 Broadland Wineries unveiled a raft of canned, vegan and non-alcoholic NPD at the London Wine Fair this week.

It has launched its on-the-go wine brand Minivino into 200ml cans with a new Sparkling Rosé (10% abv) variant. The brand was previously only available in still variants in sealed plastic 'cups'. Minivino Still rosé cups also recently launched into Sainsbury's.

Broadland's marketing director Liz Cobbold told The Grocer it wanted to boost the brand's reach as "what we're seeing from data is people are buying it for a lot of different occasions rather than just on the go".

Broadland has also expanded its Proudly Vegan wine range with a new Prosecco in 750ml and 187ml bottles (rsp: £6.99-£9.99).

Cobbold said there was a "challenge" for vegan wines in that supermarket buyers were still buying based on region rather than consumer trends. "It must change because the real customer need isn't regional."

Lastly, Broadland has unveiled a swathe of extensions to its popular Three Mills wine brand: a trio of 0.05% abv alcohol-free wines - pinot grigio, sauvignon blanc and shiraz - and a new 'Three Mills Botanicals' range of 11% abv drinks in Juniper, Cucumber & Lime and Rose, Strawberry & Elderflower flavours.

Cobbold said the hope was that these would bring new consumers to the Three Mills brand.

Broadland has spent the last year diversifying away from products made with duty dilution, before it becomes outlawed in 2020 - a change that is likely to hit many suppliers' bottom lines.

It has also created a new sister company, called The Live Kindly Drinks Company, to focus exclusively on "non-wine products with a socially conscious ethos", The Grocer revealed in February.