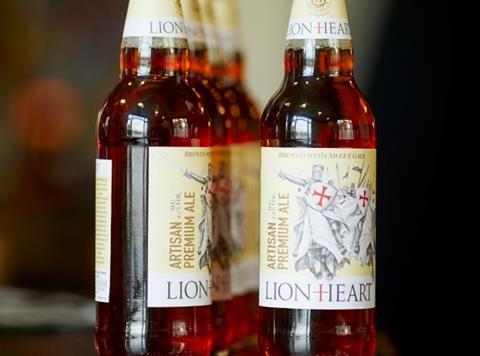 Booze distributor Brookfield Drinks has unveiled a beer called Lionheart, under the brand Brookfield Brewing Company.
Created by Brookfield MD Nigel McNally, the 4.5% abv amber ale is brewed by Cheshire's Robinsons Brewery, and launched this week in a 500ml bottle (rsp: £2.10).
Lionheart had "a scent of malt, toast and hints of nut and spice", said Brookfield head brewer Richard Sharpe, and a "dark gold or copper" appearance with "good clarity". It is brewed with Goldings and Challenger hops, and fermented in open fermenters similar to those used in the 12th century.
McNally called it "a premium ale with a classic rich and distinct English flavour", which combined "both heritage and contemporary brewing, but is different to the overly hoppy beers coming out of the modern microbreweries".
He added: "Some of the beers coming on to the market at the moment are proving a challenge to drink more than a sip". The brand name would "resonate with drinkers every time they watch an England player on TV or see one in the media".
Brookfield is in discussions with retailers to secure listings.