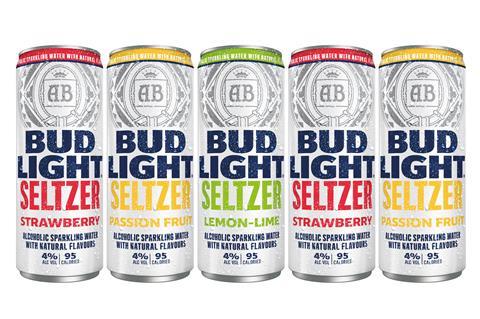 Bud Light is set to take on White Claw with a move into the hard seltzer category.
Bud Light Seltzer, which was previously only available in the US, will launch in the UK with a 4% abv version.
The flavours – Lemon & Lime, Passionfruit, and Strawberry – will roll out into the mults from 29 April. Budweiser is also in discussion with on-trade businesses.
Each 330ml can contains 95 calories and 2g sugar (rsp: £2).
Budweiser Brewing Group hard seltzer marketing manager Elise Dickinson said the brand was "hoping it will enable the off-trade to tap into what we see as an increasingly lucrative market".
The seltzer will launch in the UK with a slightly different recipe to its American version, which comes in at 5% abv rather than 4%. Dickinson said the drink tested better with UK shoppers at the lower abv.
The brand would look to "educate consumers about what seltzers actually are and explain that it is a fruity fizzy water with a kick".
The move makes Bud Light the latest in a series of names to launch hard seltzers in the UK amid growing hype.
However, it hasn't been smooth sailing for the fledgling fixture: some brands have already rebranded and reformulated despite relatively short stints on the market.
Dickinson said hard seltzer was regardless "one of the fastest-growing drinks categories here and is forecast to hit up to £600m by 2025, making it equivalent to the RTD category".
"This is a very strategic launch for us and we have been working on it for some time," she said.
"The additional benefit we have is that Bud Light is already known as the home of light and refreshing flavours, so launching this is a natural extension."
The launch will feature in BBG's sponsorship of the Euro football championships this year.
Hard seltzer sales hit £12m in UK retail last year, with 3.7% of UK households trying one [Nielsen 52 w/e 27 December 2020].