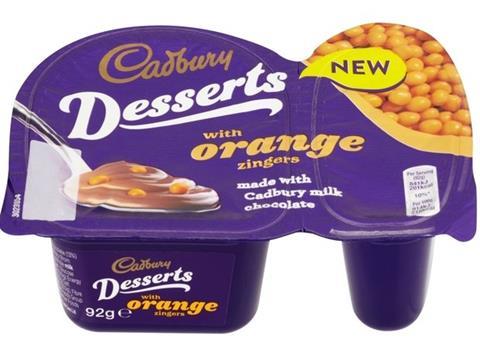 Premier Foods is taking the Cadbury brand into ambient pot desserts for the first time.
Rolling out this month, the desserts will be available in two formats: individual pots (original and orange flavours) and a split-pot format containing chocolate and additions such as toffee clusters and fudge pieces. The split pots (rsp: 85p) will for available on a three-for-£2 offer, and the individual pots (rsp: 69p) at four-for-£2. Packaged in Cadbury purple, the products have a nine-month shelf-life.
Premier – which also produces Cadbury cakes under license from brand owner Mondelez - said it was aiming to tap the popularity of chocolate, which is the UK's second-favourite flavour in yoghurts and pot desserts [Mintel 2014].
"The range is set to drive incremental sales to the desserts category as a result of the strong growth potential available within the individual pots sector," said Jo Agnew, head of Cadbury Cakes at Premier Foods.
Chilled Cadbury dessert pots have been produced by Müller since it acquired the Cadbury desserts factory in Minsterley, Shropshire, from Greencore in 2013. Müller this week told The Grocer it hoped the launch of the non-chilled pot desserts would help to stimulate interest in its products.
"Our high-quality fresh Cadbury chilled desserts products are loved by consumers and we have exciting plans to further develop the range," said a spokesman.